CableFAX Contest - Describe the cable industry in 5 words for a chance to win a $50 Amazon gift card!
Sign up for The Skinny from CableFAX - Free Weekly Eletter
Awards --
Call for Entries & Events:

CableFAX's Most Powerful Women in Cable Breakfast
November 21 - NYC
Photos from the Event

CableFAX's Best of the Web & Digital Marketing Awards
Deadline: December 6
Enter Today!

Webinars:

Establish Cable PR and Brand Leadership with Content Marketing
December 17
Register Now!

Selling TV Everywhere: Marketing and PR Strategies to Drive TVE Awareness
On-Demand

---
---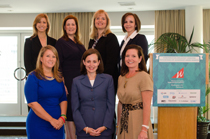 A TOUCH OF LEADERSHIP: At the PowerBrokers Breakfast of the WICT Washington, DC/Baltimore Chapter in Washington, DC on October 29, Touchstones of Leadership Award Honorees, were (top row, L-R) Discovery Comm's Catherine Frymark, Scripps Nets' Suzanne Underwald, Comcast's Samantha Callahan, TWC's Becky Bobzien-Simms, (bottom row, L-R) Travel Channel's Meghan Rodgers, the FCC's Michelle Carey & NBCU's Meredith Attwell Baker.






December 7, 2012

New Stuff 12/07/12

Wick Hill in the U.K. now is shipping the latest, major release of Xirrus' flagship ArrayOS operating system for Xirrus Wireless Arrays. According to the company, ArrayOS 6.3 enables Xirrus Wireless Arrays with application-level visibility and policy enforcement at the network edge; support for such Apple services as Airprint and Airplay across enterprise networks; support of dense 2.4 GHz wireless environments; Passpoint certification for Wi-Fi roaming and carrier data offload at wireless hot spots; and new options for migrating to 802.11ac when the technology becomes available in 2013…A new line of portable Passive Intermodulation (PIM) testers that include an extended carrier power range now is available from AWT Global. The PIM+ series is suited for testing macro cells as well as outdoor and in-building DAS installations. While 2x20W (2x43 dBm) carrier power is the reference for standard for PIM test systems, the new PIM+ offers an extended adjustable power range of +15 dBm to +44 dBm for each carrier; this low power capability reportedly is required for testing components that are designed for use in low power in-building DAS applications…AVX Corporation, which makes advanced passive components and interconnect solutions, unveiled a series of ultra-miniature chip capacitors for the RF and microwave communications market. Featuring copper electrodes in place of standard precious-metal electrodes, the new CU Series chip capacitors provide extremely low ESR, high Q, and tight tolerances. Available in 01005 and 0201 case sizes, the new copper electrode chip capacitors are ideal for applications including power amplifiers, handheld devices, GPS, vehicle location systems, and matching networks for wireless LANs.