CableFAX Contest - Describe the cable industry in 5 words for a chance to win a $50 Amazon gift card!
Sign up for The Skinny from CableFAX - Free Weekly Eletter
Awards --
Call for Entries & Events:

CableFAX's Most Powerful Women in Cable Breakfast
November 21 - NYC
Photos from the Event

CableFAX's Best of the Web & Digital Marketing Awards
Deadline: December 6
Enter Today!

Webinars:

Establish Cable PR and Brand Leadership with Content Marketing
December 17
Register Now!

Selling TV Everywhere: Marketing and PR Strategies to Drive TVE Awareness
On-Demand

---
---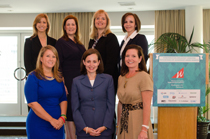 A TOUCH OF LEADERSHIP: At the PowerBrokers Breakfast of the WICT Washington, DC/Baltimore Chapter in Washington, DC on October 29, Touchstones of Leadership Award Honorees, were (top row, L-R) Discovery Comm's Catherine Frymark, Scripps Nets' Suzanne Underwald, Comcast's Samantha Callahan, TWC's Becky Bobzien-Simms, (bottom row, L-R) Travel Channel's Meghan Rodgers, the FCC's Michelle Carey & NBCU's Meredith Attwell Baker.






December 3, 2012

New Stuff 12/03/12

Fibertech Networks will build new metropolitan fiber networks in Akron, Cincinnati, Cleveland, Dayton and Toledo, while considerably increasing its existing Columbus network. Notes Chairman/CEO John K. Purcell, "We already have major anchor tenant agreements in place in each of these markets, accelerating our position as a leading alternative access provider in Ohio." To date, the company has built and owns more than 8,400 route miles of metro networks in 23 U.S. markets…Wireless backhaul specialist Ceragon Networks Ltd. is offering a new generation of packet radio solutions, dubbed FibeAir IP-20C, targeting 4G/LTE-A networks. FibeAir IP-20C reportedly is the only microwave radio to offer a virtual fiber solution in licensed bands, featuring a multi-core technology that uses a parallel radio-processing engine to double link performance. "By employing line-of-sight (LoS) 4X4 MIMO, operators can even reach capacities that quadruple those of existing solutions, at half the form-factor," the company adds. Other features include guaranteed 1 Gbps in a single 28 MHz/30 MHz channel, guaranteed 2 Gbps radio throughput in a single 56 MHz/60 MHz channel, 2048 QAM modulation and ultra-low latency…A just-unveiled Network Interface Device/Ethernet Access Device (NID/EAD) reference design from Vitesse Semiconductor Corporation delivers carrier-class networking for cloud-based business services. According to the company, "It exceeds MEF CE 2.0 requirements today, including line rate support for essential service creation and assurance features such as RFC2544, Y.1564, multioperator OAM and Hierarchical Quality of Service (HQoS). The reference design also integrates Vitesse's VeriTime timing synchronization for mobile access deployments"… The Association of Public-Safety Communications Officials (APCO) International just released the Public Safety Communications Common Incident Type Codes for Data Exchange, APCO American National Standard (ANS) 2.103.1-2012 after receiving final approval from the American National Standards Institute (ANSI) earlier this month. This APCO ANS focuses on providing a standardized list of Common Incident Type Codes to facilitate effective incident exchange between Next-Generation 911 (NG911) PSAPs and other authorized agencies. The creation of this standardized incident type code list doesn't mean an agency must change the codes they use internally, the group says. Rather, the intent is to have each agency map its internal codes to the standardized list.