CableFAX Contest - Describe the cable industry in 5 words for a chance to win a $50 Amazon gift card!
Sign up for The Skinny from CableFAX - Free Weekly Eletter
Awards --
Call for Entries & Events:

CableFAX's Most Powerful Women in Cable Breakfast
November 21 - NYC
Photos from the Event

CableFAX's Best of the Web & Digital Marketing Awards
Deadline: December 6
Enter Today!

Webinars:

Establish Cable PR and Brand Leadership with Content Marketing
December 17
Register Now!

Selling TV Everywhere: Marketing and PR Strategies to Drive TVE Awareness
On-Demand

---
---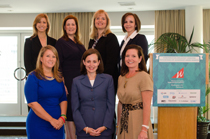 A TOUCH OF LEADERSHIP: At the PowerBrokers Breakfast of the WICT Washington, DC/Baltimore Chapter in Washington, DC on October 29, Touchstones of Leadership Award Honorees, were (top row, L-R) Discovery Comm's Catherine Frymark, Scripps Nets' Suzanne Underwald, Comcast's Samantha Callahan, TWC's Becky Bobzien-Simms, (bottom row, L-R) Travel Channel's Meghan Rodgers, the FCC's Michelle Carey & NBCU's Meredith Attwell Baker.






November 29, 2012

New Stuff 11/29/12

Mobile backhaul, business Ethernet and cloud services provider Accedian Networks says it has a new way to accelerate Ethernet service turn-up via Vision SP (Service Performance), which it claims simplifies ITU-T Y.1564 testing and enables network operators to configure tests that encompass multiple test flows that can be run simultaneously, both reducing time required for validating new services and turn-up costs. The new add-on goes with the company's Vision EMS tool set that manages its MetroNID and MetroNODE10GE performance-assurance solutions. Vision SP reportedly can validate as many as 20 different cell-site locations simultaneously with as many as eight different one-way or two-way flows per location…Concurrent expanded its smart-TV support with a new version of its MediaHawk VX unified video-delivery software that helps operators reach new customers who prefer to access video-on-demand content via an Internet-connected device rather than through a set-top box…The Sigma Cloud ServiceBroker from Sigma Systems, an integrated SaaS service-fulfillment solution for the selection, provisioning and management of SaaS services and applications, "reduces costs, removes operational silos and reduces overall capex and opex by providing a product for managing all telecommunications business services, including VoIP and high-speed broadband as well as cloud-based SaaS applications," the company notes. In addition, the Cloud ServiceBroker features an end-user portal that facilitates the process of adding and modifying services, users and preferences for the business customer…Bandwidth-infrastructure developer Zayo Group just wrapped the deployment of its fiber-optic network to DuPont Fabros Technology's (DFT) ACC6 Data Center in Ashburn, Va. Zayo now will provide a suite of services into that location, including includes Ethernet, IP, wavelengths and dark fiber. Additionally, Zayo is offering services Internet exchange points in Ashburn.