CableFAX Contest - Describe the cable industry in 5 words for a chance to win a $50 Amazon gift card!
Sign up for The Skinny from CableFAX - Free Weekly Eletter
Awards --
Call for Entries & Events:

CableFAX's Most Powerful Women in Cable Breakfast
November 21 - NYC
Photos from the Event

CableFAX's Best of the Web & Digital Marketing Awards
Deadline: December 6
Enter Today!

Webinars:

Establish Cable PR and Brand Leadership with Content Marketing
December 17
Register Now!

Selling TV Everywhere: Marketing and PR Strategies to Drive TVE Awareness
On-Demand

---
---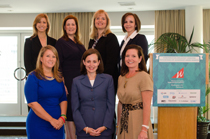 A TOUCH OF LEADERSHIP: At the PowerBrokers Breakfast of the WICT Washington, DC/Baltimore Chapter in Washington, DC on October 29, Touchstones of Leadership Award Honorees, were (top row, L-R) Discovery Comm's Catherine Frymark, Scripps Nets' Suzanne Underwald, Comcast's Samantha Callahan, TWC's Becky Bobzien-Simms, (bottom row, L-R) Travel Channel's Meghan Rodgers, the FCC's Michelle Carey & NBCU's Meredith Attwell Baker.






November 27, 2012

New Stuff 11/27/12

Alcatel-Lucent's CloudBand "carrier cloud" management solution now supports more open-source cloud-computing software as well as networking equipment from leading technology vendors. "Until now, one key obstacle that limited the introduction of carrier cloud services was the lack of interoperability of cloud solutions with service providers' multivendor network environments," the company explains. "Because it is compatible with network equipment from other vendors, CloudBand eliminates that obstacle. CloudBand gives service providers the flexibility they need to introduce carrier cloud services while benefiting from their existing investments in network infrastructure"…Building on the momentum of yesterday's new enterprise/SMB offerings (click here for more information), Hughes Network Systems unveiled high-speed Internet service plans for government agencies. Available nationwide and offering speeds to 15 Mbps, the plans target areas where terrestrial Internet connections either are unavailable, too slow or too expensive…Japan's Renesas Electronics Corporation, a supplier of advanced semiconductor solutions, says its R-IN32M3 series of industrial Ethernet communication chips support multiple communication protocols, including CC-Link IE and EtherCAT. There are also plans to provide support for the SSCNET III/H optical network standard that uses fully synchronous communication to deliver improved performance. Samples of the first products in R-IN32M3 series — the R-IN32M3-CL and R-IN32M3-EC — will be available in January 2013, priced at $25 per unit.