CableFAX Contest - Describe the cable industry in 5 words for a chance to win a $50 Amazon gift card!
Sign up for The Skinny from CableFAX - Free Weekly Eletter
Awards --
Call for Entries & Events:

CableFAX's Most Powerful Women in Cable Breakfast
November 21 - NYC
Photos from the Event

CableFAX's Best of the Web & Digital Marketing Awards
Deadline: December 6
Enter Today!

Webinars:

Establish Cable PR and Brand Leadership with Content Marketing
December 17
Register Now!

Selling TV Everywhere: Marketing and PR Strategies to Drive TVE Awareness
On-Demand

---
---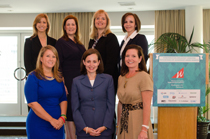 A TOUCH OF LEADERSHIP: At the PowerBrokers Breakfast of the WICT Washington, DC/Baltimore Chapter in Washington, DC on October 29, Touchstones of Leadership Award Honorees, were (top row, L-R) Discovery Comm's Catherine Frymark, Scripps Nets' Suzanne Underwald, Comcast's Samantha Callahan, TWC's Becky Bobzien-Simms, (bottom row, L-R) Travel Channel's Meghan Rodgers, the FCC's Michelle Carey & NBCU's Meredith Attwell Baker.






November 26, 2012

New Stuff 11/26/12

The Symmetricom 3120A Phase Noise Test Probe measures phase noise and Allan Deviation as part of the base hardware kit. Additional software options are available to measure AM noise floor and such signal statistics as HDEV, TDEV, MDEV and jitter. It also can be used as a frequency counter and for mask testing…Hughes Network Systems LLC is offering three new HughesNet Gen4 Business Internet service plans that deliver speeds to 15 Mbps for small and medium-sized enterprises. The three service plans are Business 200, Business 300 and Business 400, priced at $79.99 to $129.99 per month. All plans include HughesNet Express Repair Premium at no cost for the first year, including next-business-day onsite response time, free anti-virus software for three PCs, commercial installation and business-grade support.