CableFAX Contest - Describe the cable industry in 5 words for a chance to win a $50 Amazon gift card!
Sign up for The Skinny from CableFAX - Free Weekly Eletter
Awards --
Call for Entries & Events:

CableFAX's Most Powerful Women in Cable Breakfast
November 21 - NYC
Photos from the Event

CableFAX's Best of the Web & Digital Marketing Awards
Deadline: December 6
Enter Today!

Webinars:

Establish Cable PR and Brand Leadership with Content Marketing
December 17
Register Now!

Selling TV Everywhere: Marketing and PR Strategies to Drive TVE Awareness
On-Demand

---
---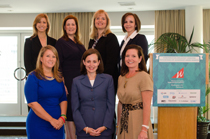 A TOUCH OF LEADERSHIP: At the PowerBrokers Breakfast of the WICT Washington, DC/Baltimore Chapter in Washington, DC on October 29, Touchstones of Leadership Award Honorees, were (top row, L-R) Discovery Comm's Catherine Frymark, Scripps Nets' Suzanne Underwald, Comcast's Samantha Callahan, TWC's Becky Bobzien-Simms, (bottom row, L-R) Travel Channel's Meghan Rodgers, the FCC's Michelle Carey & NBCU's Meredith Attwell Baker.






November 19, 2012

New Stuff 11/19/12

Time Warner Cable (TWC) officially opened the National Data Center East on its Charlotte (N.C.) campus, just one of two centers of its kind nationwide, it notes. Announced last summer as part of a $101 million expansion project in Charlotte, the Data Center supports the equipment necessary to deliver service for TWC's core residential and business products. A few key functions of the building include hosting the applications that support approximately 70 million residential emails sent per day, managing the billing records of more than 15 million customers and providing all backend applications delivered to the entire TWC employee base. The building also includes cloud technology from NaviSite, a TWC company. As part of the construction announcement made last summer, the operaror also announced the addition of 225 new jobs…U.K.-based ARM unveiled a rapid prototyping developer kit for the Internet of Things (IoT) market that integrates the Sprint Mobile Broadband USB 598U Modem by Sierra Wireless with the mbed microcontroller development platform, which is based on the ARM Cortex-M3 processor. The IoT market is set to grow exponentially, with Gartner estimating 50 billion connected devices by 2020. The rapid prototyping developer kit provides a C++ development environment on a full 32-bit high-performance microcontroller. These open source drivers will be pre-integrated for the Sprint Mobile Broadband USB 598U Modem…Elgato, a developer of TV and video solutions for the Mac, PC, iPhone and iPad, has teamed with Dyle mobile TV, a live broadcast service from the Mobile Content Venture (MCV) to market the EyeTV Mobile accessory, a Dyle mobile-TV-compatible TV tuner for iOS devices they say will turn iPad, iPod Touch and iPhone devices into portable TVs. The accessory connects to iOS devices directly via the dock connector to bring live TV to consumers. The tuner receives the TV signal from an antenna; it doesn't require an Internet connection and it doesn't use up any mobile data. Dyle TV is available from more than 90 stations in 35 markets, reaching approximately 55 percent of the U.S. population…Ciena Corporation's 10G wire-speed encryption solution now is Federal Information Processing Standard (FIPS) 140-2 Level 2 compliant, validated by the National Institute of Standards and Technology (NIST) and Communications Security Establishment Canada (CSE). With FIPS approval, Ciena's integrated transport offering with 10G encryption can be deployed by U.S. and Canadian government agencies as well as enterprises globally, for fully encrypted 10G data service delivery at wire-speed rates, it says.