CableFAX Contest - Describe the cable industry in 5 words for a chance to win a $50 Amazon gift card!
Sign up for The Skinny from CableFAX - Free Weekly Eletter
Awards --
Call for Entries & Events:

CableFAX's Most Powerful Women in Cable Breakfast
November 21 - NYC
Photos from the Event

CableFAX's Best of the Web & Digital Marketing Awards
Deadline: December 6
Enter Today!

Webinars:

Establish Cable PR and Brand Leadership with Content Marketing
December 17
Register Now!

Selling TV Everywhere: Marketing and PR Strategies to Drive TVE Awareness
On-Demand

---
---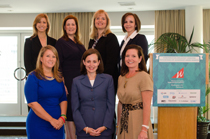 A TOUCH OF LEADERSHIP: At the PowerBrokers Breakfast of the WICT Washington, DC/Baltimore Chapter in Washington, DC on October 29, Touchstones of Leadership Award Honorees, were (top row, L-R) Discovery Comm's Catherine Frymark, Scripps Nets' Suzanne Underwald, Comcast's Samantha Callahan, TWC's Becky Bobzien-Simms, (bottom row, L-R) Travel Channel's Meghan Rodgers, the FCC's Michelle Carey & NBCU's Meredith Attwell Baker.






November 15, 2012

New Stuff 11/15/12

Sweden's Net Insight launched its Nimbra VA 210 video appliance it says improves QoS over unmanaged IP first-mile connections. By connecting Nimbra VA 210 video appliances to the nearest Nimbra MSR PoP, operators reportedly can reduce costs for first-mile connectivity and shift resources from transmission to content creation. The new offering incorporates content-aware Forward Error Correction to help reduce effective packet loss and selective retransmission of unrecoverable data loss, and it will be available at the end of March 2013…The Fluke 190 Series II 500 MHz ScopeMeter Test Tool is said to be the first to achieve a 500 MHz-at-5 GS/s real-time sample rate in a handheld, sealed, rugged oscilloscope. The two-channel 190-502 model is the latest in the 190 Series II with bandwidth from 60, 100, 200 — and now 500 — MHz. The 190 Series II ScopeMeter test tool includes ScopeRecord, TrendPlot, advanced triggering and automatic measurements functions; its safety rating is 1000 V CAT III/ 600 V CAT IV, making it possible to safely measure from mV to 1000 V, the company adds…Two new additions to Adobe's Project Primetime solution: Adobe MediaWeaver, a new ad insertion service, dynamically places ads into content to maximize revenue, the company says, delivering "a viewing experience that mirrors broadcast TV while also supporting audience targeting and analytics to increase media inventory value;" and Primetime Media Player aimed at "maximizing audience reach and ensure that all experiences are immediately monetizable through seamless ad insertion and analytics." With these, the beta version of Project Primetime now is available via SDK for Windows, Mac OS, Android and iOS; it also will be extended to include such Web-connected platforms as OTT devices and connected TVs.