CableFAX Contest - Describe the cable industry in 5 words for a chance to win a $50 Amazon gift card!
Sign up for The Skinny from CableFAX - Free Weekly Eletter
Awards --
Call for Entries & Events:

CableFAX's Most Powerful Women in Cable Breakfast
November 21 - NYC
Photos from the Event

CableFAX's Best of the Web & Digital Marketing Awards
Deadline: December 6
Enter Today!

Webinars:

Establish Cable PR and Brand Leadership with Content Marketing
December 17
Register Now!

Selling TV Everywhere: Marketing and PR Strategies to Drive TVE Awareness
On-Demand

---
---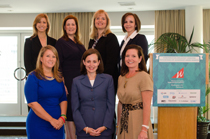 A TOUCH OF LEADERSHIP: At the PowerBrokers Breakfast of the WICT Washington, DC/Baltimore Chapter in Washington, DC on October 29, Touchstones of Leadership Award Honorees, were (top row, L-R) Discovery Comm's Catherine Frymark, Scripps Nets' Suzanne Underwald, Comcast's Samantha Callahan, TWC's Becky Bobzien-Simms, (bottom row, L-R) Travel Channel's Meghan Rodgers, the FCC's Michelle Carey & NBCU's Meredith Attwell Baker.






October 10, 2011

Netflix Does 180-Degree Turn

Netflix today said it will not rename its DVD-by-mail service and that its U.S. members will continue to go to the Netflix Website for both unlimited streaming and unlimited DVDs. Netflix said in a September that its DVD-by-mail service would operate at Qwikster.com. Instead, U.S. members will continue to use one Website, one account and one password for their movie and TV watching under the Netflix brand.

"Consumers value the simplicity Netflix has always offered and we respect that," said Netflix co-founder and CEO Reed Hastings, in a statement. "There is a difference between moving quickly - which Netflix has done very well for years - and moving too fast, which is what we did in this case."