Sign up for The Skinny from CableFAX - Free Weekly Eletter
Awards --
Call for Entries & Events:

CableMania with Cablefax & AXS TV - April 30
RSVP Today!

Call for Nominations - Top Operators
Nomination Deadline: May 2
Enter Now!

CableFAX's Digital & Tech Summit: May 21
Yale Club | NYC
Register Now!

Call for Entries - Program Awards
Entry Deadline: June 20
Enter Today!

Complete List of Events
Webinars:

Participation TV 2.0: Turning Audience Involvement Into Profit
May 7
Register Now!

Monetizing Social TV: New Tools and Tactics for Success
March 25
On-Demand

---
---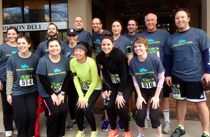 CABLE SHAPES UP! Members of CableFit #teamplatform at NCTA get ready to run a St. Patrick's Day 8K road race, spanning the U.S. Capitol grounds and National Mall on March 9, (back row, l. to r.): Julie Hance, Ethan Buch, Frank Gallagher, Kristin Buch, Steven Morris, Lisa Hamilton, Scot Donaldson, Rob Stoddard, Rick Stoddard; (front row, l. to r.): Kelly Allers, Kat Stewart, Esther Song, Carleigh Blewett, Lisa Otto. NCTA's team finished 11th in a field of 54.







October 10, 2011

Netflix Does 180-Degree Turn

Netflix today said it will not rename its DVD-by-mail service and that its U.S. members will continue to go to the Netflix Website for both unlimited streaming and unlimited DVDs. Netflix said in a September that its DVD-by-mail service would operate at Qwikster.com. Instead, U.S. members will continue to use one Website, one account and one password for their movie and TV watching under the Netflix brand.

"Consumers value the simplicity Netflix has always offered and we respect that," said Netflix co-founder and CEO Reed Hastings, in a statement. "There is a difference between moving quickly - which Netflix has done very well for years - and moving too fast, which is what we did in this case."