Sign up for The Skinny from CableFAX - Free Weekly Eletter
Awards --
Call for Entries & Events:

CableMania with Cablefax & AXS TV - April 30
RSVP Today!

Call for Nominations - Top Operators
Nomination Deadline: May 2
Enter Now!

CableFAX's Digital & Tech Summit: May 21
Yale Club | NYC
Register Now!

Call for Entries - Program Awards
Entry Deadline: June 20
Enter Today!

Complete List of Events
Webinars:

Participation TV 2.0: Turning Audience Involvement Into Profit
May 7
Register Now!

Monetizing Social TV: New Tools and Tactics for Success
March 25
On-Demand

---
---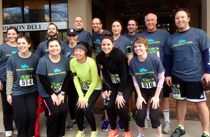 CABLE SHAPES UP! Members of CableFit #teamplatform at NCTA get ready to run a St. Patrick's Day 8K road race, spanning the U.S. Capitol grounds and National Mall on March 9, (back row, l. to r.): Julie Hance, Ethan Buch, Frank Gallagher, Kristin Buch, Steven Morris, Lisa Hamilton, Scot Donaldson, Rob Stoddard, Rick Stoddard; (front row, l. to r.): Kelly Allers, Kat Stewart, Esther Song, Carleigh Blewett, Lisa Otto. NCTA's team finished 11th in a field of 54.







October 13, 2011

More People Are Using Netflix's Watch Instantly Feature

New consumer research from Leichtman Research Group (LRG) found that 44 percent of TV households in the United States have at least one digital video recorder (DVR), and one-third of DVR households have more than one DVR - representing 14 percent of all households having multiple DVRs. This compares to 2005, when just 8 percent of all households had a DVR.

In addition, 73 percent of all digital cable subscribers have ever used video on demand (VOD), with 87 percent of this group having watched an on-demand program or movie in the past month. Overall, about 62 percent of digital cable subscribers used on-demand in the past month - compared to 52 percent last year.

Other related findings include:

80 percent of DVR owners rate the service 8-10 (on a 1-10 scale with 10 being excellent) - compared to 80 percent last year, and 77 percent two years ago
62 percent of cable VOD users rate the service 8-10 - compared to 60 percent last year, and 55 percent two years ago
74 percent of premium on-demand (POD) users rate VOD 8-10 - compared to 54 percent of non-POD users
63 percent of all Netflix subscribers rate the Watch Instantly feature 8-10 (on a 1-10 scale with 10 being an extremely important feature or benefit of the Netflix service) - compared to 48 percent last year, and 37 percent two years ago
20 percent of Netflix subscribers use Watch Instantly daily, and 57 percent weekly - last year 10 percent used Watch Instantly daily, and 43 percent weekly
78 percent of Watch Instantly users use it to watch movies and TV shows on a TV set
86 percent of Netflix households subscribe to a multi-channel video service, and 43 percent with a multi-channel video service subscribe to a premium service - similar to all households in the sample, and similar to Netflix households last year.

These findings are based on a survey of over 1,300 households throughout the United States, and are part of LRG's study, "On-Demand TV 2011: A Nationwide Study on VOD and DVRs." This is LRG's tenth annual study on this topic.

"On-demand TV viewing in the forms of DVR and VOD, as well as Netflix streaming, have significantly increased in terms of usage and popularity over the past few years," said Bruce Leichtman, president and principal analyst for LRG, in a statement. "Yet these on-demand TV platforms remain largely complementary to traditional TV services and viewing, with about 90 percent of all TV viewing in the US still being via live TV."