CableFAX Contest - Describe the cable industry in 5 words for a chance to win a $50 Amazon gift card!
Sign up for The Skinny from CableFAX - Free Weekly Eletter
Awards --
Call for Entries & Events:

CableFAX's Most Powerful Women in Cable Breakfast
November 21 - NYC
Photos from the Event

CableFAX's Best of the Web & Digital Marketing Awards
Deadline: December 6
Enter Today!

Webinars:

Establish Cable PR and Brand Leadership with Content Marketing
December 17
Register Now!

Selling TV Everywhere: Marketing and PR Strategies to Drive TVE Awareness
On-Demand

---
---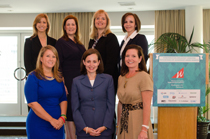 A TOUCH OF LEADERSHIP: At the PowerBrokers Breakfast of the WICT Washington, DC/Baltimore Chapter in Washington, DC on October 29, Touchstones of Leadership Award Honorees, were (top row, L-R) Discovery Comm's Catherine Frymark, Scripps Nets' Suzanne Underwald, Comcast's Samantha Callahan, TWC's Becky Bobzien-Simms, (bottom row, L-R) Travel Channel's Meghan Rodgers, the FCC's Michelle Carey & NBCU's Meredith Attwell Baker.






October 6, 2011

Microsoft's Been Busy Creating Xbox Partnerships

Timed to capitalize on the holiday buying season, Microsoft announced plans to roll out TV entertainment on Xbox LIVE, the online entertainment service for Xbox 360. Nearly 40 global TV and entertainment providers, including Bravo, Comcast, HBO GO, Verizon FiOS and Syfy in the U.S.; BBC in the U.K., Telefónica in Spain; Rogers On Demand in Canada; Televisa in Mexico; ZDF in Germany; and MediaSet in Italy, will begin rolling out entertainment services to the console this holiday, in more than 20 countries. (For more, see Xbox 360 Gets Foot In the Door At Cable Operations).

The Xbox 360 console will offer access to BBC, Channel 4, Channel 5 and LOVEFiLM in the U.K.; Antena 3, RTVE and Telefónica in Spain; Televisa in Mexico; and Bravo, Comcast's Xfinity On Demand service, Crackle, EPIX, Syfy, TMZ, "The Today Show," UFC, Verizon FiOS and HBO GO in the United States.