Sign up for The Skinny from CableFAX - Free Weekly Eletter
Awards --
Call for Entries & Events:

CableMania with Cablefax & AXS TV - April 30
RSVP Today!

Call for Nominations - Top Operators
Nomination Deadline: May 2
Enter Now!

CableFAX's Digital & Tech Summit: May 21
Yale Club | NYC
Register Now!

Call for Entries - Program Awards
Entry Deadline: June 20
Enter Today!

Complete List of Events
Webinars:

Participation TV 2.0: Turning Audience Involvement Into Profit
May 7
Register Now!

Monetizing Social TV: New Tools and Tactics for Success
March 25
On-Demand

---
---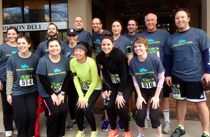 CABLE SHAPES UP! Members of CableFit #teamplatform at NCTA get ready to run a St. Patrick's Day 8K road race, spanning the U.S. Capitol grounds and National Mall on March 9, (back row, l. to r.): Julie Hance, Ethan Buch, Frank Gallagher, Kristin Buch, Steven Morris, Lisa Hamilton, Scot Donaldson, Rob Stoddard, Rick Stoddard; (front row, l. to r.): Kelly Allers, Kat Stewart, Esther Song, Carleigh Blewett, Lisa Otto. NCTA's team finished 11th in a field of 54.







October 13, 2011

Library of Congress Transports Video With Net Insight

Net Insight received an order to deliver video transport for the U. S. Library of Congress. Net Insight's Nimbra carrier-class media switch router (MSR) will support video transport to the library in a pilot project. The Nimbra platform will transport video from the House and Senate fiber ring location to the Library of Congress' National Audio Visual Conservation Center (NAVCC).

The Packard Campus for Audio Visual Conservation (PCAVC), also known as NAVCC, is the facility where the Library of Congress acquires, preserves and provides access to the world's largest and most comprehensive collection of films, television programs, radio broadcasts, and sound recordings.

 NAVCC has globally recognized capabilities and capacities for the preservation reformatting of all audiovisual media formats and their long-term safekeeping in a petabyte-level digital storage archive.

For the pilot, Net Insight will provide Nimbra equipment, installation, training support, and technical support to ensure continuity and compatibility with existing equipment.