CableFAX Contest - Describe the cable industry in 5 words for a chance to win a $50 Amazon gift card!
Sign up for The Skinny from CableFAX - Free Weekly Eletter
Awards --
Call for Entries & Events:

CableFAX's Most Powerful Women in Cable Breakfast
November 21 - NYC
Photos from the Event

CableFAX's Best of the Web & Digital Marketing Awards
Deadline: December 6
Enter Today!

Webinars:

How to Profit from Content Marketing in Cable
December 17
Register Now!

Selling TV Everywhere: Marketing and PR Strategies to Drive TVE Awareness
On-Demand

---
---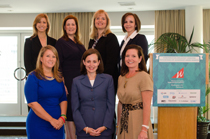 A TOUCH OF LEADERSHIP: At the PowerBrokers Breakfast of the WICT Washington, DC/Baltimore Chapter in Washington, DC on October 29, Touchstones of Leadership Award Honorees, were (top row, L-R) Discovery Comm's Catherine Frymark, Scripps Nets' Suzanne Underwald, Comcast's Samantha Callahan, TWC's Becky Bobzien-Simms, (bottom row, L-R) Travel Channel's Meghan Rodgers, the FCC's Michelle Carey & NBCU's Meredith Attwell Baker.






October 13, 2011

Library of Congress Transports Video With Net Insight

Net Insight received an order to deliver video transport for the U. S. Library of Congress. Net Insight's Nimbra carrier-class media switch router (MSR) will support video transport to the library in a pilot project. The Nimbra platform will transport video from the House and Senate fiber ring location to the Library of Congress' National Audio Visual Conservation Center (NAVCC).

The Packard Campus for Audio Visual Conservation (PCAVC), also known as NAVCC, is the facility where the Library of Congress acquires, preserves and provides access to the world's largest and most comprehensive collection of films, television programs, radio broadcasts, and sound recordings.

 NAVCC has globally recognized capabilities and capacities for the preservation reformatting of all audiovisual media formats and their long-term safekeeping in a petabyte-level digital storage archive.

For the pilot, Net Insight will provide Nimbra equipment, installation, training support, and technical support to ensure continuity and compatibility with existing equipment.