Sign up for The Skinny from CableFAX - Free Weekly Eletter
Awards --
Call for Entries & Events:

CableMania with Cablefax & AXS TV - April 30
RSVP Today!

Call for Nominations - Top Operators
Nomination Deadline: May 2
Enter Now!

CableFAX's Digital & Tech Summit: May 21
Yale Club | NYC
Register Now!

Call for Entries - Program Awards
Entry Deadline: June 20
Enter Today!

Complete List of Events
Webinars:

Participation TV 2.0: Turning Audience Involvement Into Profit
May 7
Register Now!

Monetizing Social TV: New Tools and Tactics for Success
March 25
On-Demand

---
---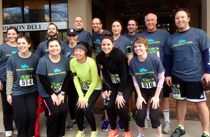 CABLE SHAPES UP! Members of CableFit #teamplatform at NCTA get ready to run a St. Patrick's Day 8K road race, spanning the U.S. Capitol grounds and National Mall on March 9, (back row, l. to r.): Julie Hance, Ethan Buch, Frank Gallagher, Kristin Buch, Steven Morris, Lisa Hamilton, Scot Donaldson, Rob Stoddard, Rick Stoddard; (front row, l. to r.): Kelly Allers, Kat Stewart, Esther Song, Carleigh Blewett, Lisa Otto. NCTA's team finished 11th in a field of 54.







December 23, 2011

KPN Deploys Cisco's CRS-3

Dutch service provider KPN has chosen the Cisco CRS-3 multi-chassis carrier routing system for the heart of its Internet peering network. The CRS-3 solution will transport all of KPN's IP traffic to the Internet as part of KPN's Internet Cluster Environment, supporting future consolidation and streamlining the network and services without the need for extra system upgrades.

KPN is the largest service provider in the Netherlands and offers services across fixed and mobile to businesses and consumers. Its focus for future expansion is on the demand for video over the Internet and ensuring that its network can support these requirements.

Offering up to 322 Tbps, the multi-chassis CRS-3 provides a future-proof solution for KPN, enabling nearly unlimited network growth, and supporting the continued growth on Internet traffic in the years to come. All of KPN's Internet traffic will go through two core locations – the current architecture as set up with Cisco covers the replacement and upgrade of network capacity until 2020.