CableFAX Contest - Describe the cable industry in 5 words for a chance to win a $50 Amazon gift card!
Sign up for The Skinny from CableFAX - Free Weekly Eletter
Awards --
Call for Entries & Events:

CableFAX's Most Powerful Women in Cable Breakfast
November 21 - NYC
Photos from the Event

CableFAX's Best of the Web & Digital Marketing Awards
Deadline: December 6
Enter Today!

Webinars:

Establish Cable PR and Brand Leadership with Content Marketing
December 17
Register Now!

Selling TV Everywhere: Marketing and PR Strategies to Drive TVE Awareness
On-Demand

---
---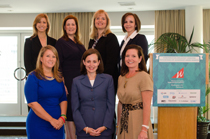 A TOUCH OF LEADERSHIP: At the PowerBrokers Breakfast of the WICT Washington, DC/Baltimore Chapter in Washington, DC on October 29, Touchstones of Leadership Award Honorees, were (top row, L-R) Discovery Comm's Catherine Frymark, Scripps Nets' Suzanne Underwald, Comcast's Samantha Callahan, TWC's Becky Bobzien-Simms, (bottom row, L-R) Travel Channel's Meghan Rodgers, the FCC's Michelle Carey & NBCU's Meredith Attwell Baker.






December 23, 2011

KPN Deploys Cisco's CRS-3

Dutch service provider KPN has chosen the Cisco CRS-3 multi-chassis carrier routing system for the heart of its Internet peering network. The CRS-3 solution will transport all of KPN's IP traffic to the Internet as part of KPN's Internet Cluster Environment, supporting future consolidation and streamlining the network and services without the need for extra system upgrades.

KPN is the largest service provider in the Netherlands and offers services across fixed and mobile to businesses and consumers. Its focus for future expansion is on the demand for video over the Internet and ensuring that its network can support these requirements.

Offering up to 322 Tbps, the multi-chassis CRS-3 provides a future-proof solution for KPN, enabling nearly unlimited network growth, and supporting the continued growth on Internet traffic in the years to come. All of KPN's Internet traffic will go through two core locations – the current architecture as set up with Cisco covers the replacement and upgrade of network capacity until 2020.