Sign up for The Skinny from CableFAX - Free Weekly Eletter
Awards --
Call for Entries & Events:

CableMania with Cablefax & AXS TV - April 30
RSVP Today!

CableFAX Tech Breakfast & Roundtable - May 1
Complimentary Registration!

Call for Nominations - Top Operators
Nomination Deadline: May 2
Enter Now!

CableFAX's Digital & Tech Summit: May 21
Yale Club | NYC
Register Now!

Call for Entries - Program Awards
Entry Deadline: June 20
Enter Today!

Complete List of Events
Webinars:

Participation TV 2.0: Turning Audience Involvement Into Profit
May 7
Register Now!

Monetizing Social TV: New Tools and Tactics for Success
March 25
On-Demand

---
---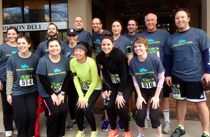 CABLE SHAPES UP! Members of CableFit #teamplatform at NCTA get ready to run a St. Patrick's Day 8K road race, spanning the U.S. Capitol grounds and National Mall on March 9, (back row, l. to r.): Julie Hance, Ethan Buch, Frank Gallagher, Kristin Buch, Steven Morris, Lisa Hamilton, Scot Donaldson, Rob Stoddard, Rick Stoddard; (front row, l. to r.): Kelly Allers, Kat Stewart, Esther Song, Carleigh Blewett, Lisa Otto. NCTA's team finished 11th in a field of 54.







December 10, 2012

Inside The Beltway 12/10/12

FCC Chairman Julius Genachowski just announced the formation of an agency-wide Technology Transitions Policy Task Force under the leadership of General Counsel Sean Lev, who will serve as interim director, and Rebekah Goodheart, associate chief/Wireline Competition Bureau, who will serve as deputy director. Other members will include the chief economist, the CTO and reps from the Wireline, Wireless, Media, Consumer Affairs and Public Safety Bureaus as well as from the Office of General Counsel and the Office of Strategic Planning and Policy Analysis. According to the chairman, "The Technology Transitions Policy Task Force will play a critical role in answering the fundamental policy question for communications in the 21st century: In a broadband world, how can we best ensure that our nation's communications policies continue to drive a virtuous cycle of innovation and investment, promote competition, and protect consumers?" Among other issues, the Task Force will coordinate the agency's efforts regarding IP interconnection, business broadband competition and consumer protection, with a particular focus on voice services. The group also will consider recommendations from the Technological Advisory Committee on the PSTN Transition, will coordinate with the NARUC Presidential Task Force on Federalism and Telecommunications, and will evaluate the feedback from the FCC's pending field hearings on Superstorm Sandy.