Sign up for The Skinny from CableFAX - Free Weekly Eletter
Awards --
Call for Entries & Events:

CableMania with Cablefax & AXS TV - April 30
RSVP Today!

Call for Nominations - Top Operators
Nomination Deadline: May 2
Enter Now!

CableFAX's Digital & Tech Summit: May 21
Yale Club | NYC
Register Now!

Call for Entries - Program Awards
Entry Deadline: June 20
Enter Today!

Complete List of Events
Webinars:

Participation TV 2.0: Turning Audience Involvement Into Profit
May 7
Register Now!

Monetizing Social TV: New Tools and Tactics for Success
March 25
On-Demand

---
---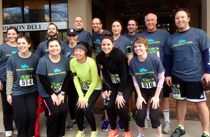 CABLE SHAPES UP! Members of CableFit #teamplatform at NCTA get ready to run a St. Patrick's Day 8K road race, spanning the U.S. Capitol grounds and National Mall on March 9, (back row, l. to r.): Julie Hance, Ethan Buch, Frank Gallagher, Kristin Buch, Steven Morris, Lisa Hamilton, Scot Donaldson, Rob Stoddard, Rick Stoddard; (front row, l. to r.): Kelly Allers, Kat Stewart, Esther Song, Carleigh Blewett, Lisa Otto. NCTA's team finished 11th in a field of 54.







December 7, 2012

Inside The Beltway 12/07/12

AT&T Wireless, Verizon Wireless, Sprint-Nextel and T-Mobile USA – agreed to accelerate the availability of text-to-911, with major deployments expected in 2013 and a commitment to nationwide availability by May 15, 2014, notes FCC Chairman Julius Genachowski. He adds, "Building on text-to-911 deployments and trials that are already underway, this agreement will accelerate progress and ensure that over 90 percent of the nation's wireless consumers, including millions of consumers with hearing or speech disabilities, will be able to access emergency services by sending a text message to 911, where local 911 call centers (known as a Public Safety Answering Points, or PSAPs) are also prepared to receive the texts." The carriers also committed to provide an automatic "bounce back" text message by June 2013 to notify consumers if their attempt to reach 911 via text message was unsuccessful because such service is not yet available in their areas; they then would be instructed to make an actual 911 voice call. The agreement also was signed by APCO International and NENA-The 9-1-1 Association, and the full text can be read here. In separate but related 911 news, the State of Maine awarded FairPoint Communications a five-year contract worth $32 million to handle the state's next-generation 911 (NG 911) system. FairPoint will provide the system and support to serve Maine's 26 PSAPs. This contract makes Maine one of the first states to deploy a NG 911 system compliant with the National Emergency Number Association (NENA) standards published in June 2011…The FCC will begin accepting reports of VoIP service outages starting Dec. 17. This stems from the VoIP Outage Order the commission adopted in February that requires mandatory reporting of outages.