CableFAX Contest - Describe the cable industry in 5 words for a chance to win a $50 Amazon gift card!
Sign up for The Skinny from CableFAX - Free Weekly Eletter
Awards --
Call for Entries & Events:

CableFAX's Most Powerful Women in Cable Breakfast
November 21 - NYC
Photos from the Event

CableFAX's Best of the Web & Digital Marketing Awards
Deadline: December 6
Enter Today!

Webinars:

Establish Cable PR and Brand Leadership with Content Marketing
December 17
Register Now!

Selling TV Everywhere: Marketing and PR Strategies to Drive TVE Awareness
On-Demand

---
---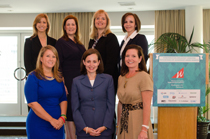 A TOUCH OF LEADERSHIP: At the PowerBrokers Breakfast of the WICT Washington, DC/Baltimore Chapter in Washington, DC on October 29, Touchstones of Leadership Award Honorees, were (top row, L-R) Discovery Comm's Catherine Frymark, Scripps Nets' Suzanne Underwald, Comcast's Samantha Callahan, TWC's Becky Bobzien-Simms, (bottom row, L-R) Travel Channel's Meghan Rodgers, the FCC's Michelle Carey & NBCU's Meredith Attwell Baker.






December 7, 2012

Inside The Beltway 12/07/12

AT&T Wireless, Verizon Wireless, Sprint-Nextel and T-Mobile USA – agreed to accelerate the availability of text-to-911, with major deployments expected in 2013 and a commitment to nationwide availability by May 15, 2014, notes FCC Chairman Julius Genachowski. He adds, "Building on text-to-911 deployments and trials that are already underway, this agreement will accelerate progress and ensure that over 90 percent of the nation's wireless consumers, including millions of consumers with hearing or speech disabilities, will be able to access emergency services by sending a text message to 911, where local 911 call centers (known as a Public Safety Answering Points, or PSAPs) are also prepared to receive the texts." The carriers also committed to provide an automatic "bounce back" text message by June 2013 to notify consumers if their attempt to reach 911 via text message was unsuccessful because such service is not yet available in their areas; they then would be instructed to make an actual 911 voice call. The agreement also was signed by APCO International and NENA-The 9-1-1 Association, and the full text can be read here. In separate but related 911 news, the State of Maine awarded FairPoint Communications a five-year contract worth $32 million to handle the state's next-generation 911 (NG 911) system. FairPoint will provide the system and support to serve Maine's 26 PSAPs. This contract makes Maine one of the first states to deploy a NG 911 system compliant with the National Emergency Number Association (NENA) standards published in June 2011…The FCC will begin accepting reports of VoIP service outages starting Dec. 17. This stems from the VoIP Outage Order the commission adopted in February that requires mandatory reporting of outages.