CableFAX Contest - Describe the cable industry in 5 words for a chance to win a $50 Amazon gift card!
Sign up for The Skinny from CableFAX - Free Weekly Eletter
Awards --
Call for Entries & Events:

CableFAX's Most Powerful Women in Cable Breakfast
November 21 - NYC
Photos from the Event

CableFAX's Best of the Web & Digital Marketing Awards
Deadline: December 6
Enter Today!

Webinars:

Establish Cable PR and Brand Leadership with Content Marketing
December 17
Register Now!

Selling TV Everywhere: Marketing and PR Strategies to Drive TVE Awareness
On-Demand

---
---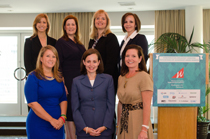 A TOUCH OF LEADERSHIP: At the PowerBrokers Breakfast of the WICT Washington, DC/Baltimore Chapter in Washington, DC on October 29, Touchstones of Leadership Award Honorees, were (top row, L-R) Discovery Comm's Catherine Frymark, Scripps Nets' Suzanne Underwald, Comcast's Samantha Callahan, TWC's Becky Bobzien-Simms, (bottom row, L-R) Travel Channel's Meghan Rodgers, the FCC's Michelle Carey & NBCU's Meredith Attwell Baker.






November 19, 2012

Inside The Beltway 11/19/12

In a letter late last week to Michael Steffen, legal advisor to FCC Chairman Julius Genachowski, Ross J. Lieberman, vice president/Government Affairs at the American Cable Association, reiterated his group's past cooperation with the commission staff in supplying background on the provision of dedicated high-capacity lines to business customers by its members, even though the ACA "has strongly expressed its concern that the Commission only gather relevant data and that any requirement to submit data not place undue burdens on smaller operators." However, Lieberman notes the FCC "is considering gathering data not just on dedicated lines but on traditional Internet access service provided to businesses. Internet access services are clearly not interchangeable with special access lines because they are generally provided without the same quality of service and related guarantees as dedicated high-capacity lines. Moreover, the Commission is seeking this data without any analysis of the additional burden this would place on smaller operators, contrary to the dictate of the Paperwork Reduction Act." As such, he continues, "to put it bluntly, any effort by the Commission to adopt and impose a data submission requirement covering Internet access services provided to businesses would be arbitrary and unreasoned decision making. ACA urges the Commission to reverse course and reject any effort to gather this data, at the very least for smaller cable operators"…Amazon, DISH, eBay, Facebook, Google, Netflix, Sony and Twitter are among many tech firms that are in agreement with the FCC's rules regarding network neutrality as the agency fights against Verizon and MetroPCS in the District Court of the District of Columbia. Individuals backing the FCC include former FCC Chairman Reed Hundt; former FCC Commissioner Michael Copps; and Reps. Anna Eshoo, Henry Waxman and Ed Markey…The House Communications and Technology Subcommittee's hearing on spectrum incentive auctions, set for Dec. 12, will hear testimony from all five FCC commissioners.