CableFAX Contest - Describe the cable industry in 5 words for a chance to win a $50 Amazon gift card!
Sign up for The Skinny from CableFAX - Free Weekly Eletter
Awards --
Call for Entries & Events:

CableFAX's Most Powerful Women in Cable Breakfast
November 21 - NYC
Photos from the Event

CableFAX's Best of the Web & Digital Marketing Awards
Deadline: December 6
Enter Today!

Webinars:

How to Profit from Content Marketing in Cable
December 17
Register Now!

Selling TV Everywhere: Marketing and PR Strategies to Drive TVE Awareness
On-Demand

---
---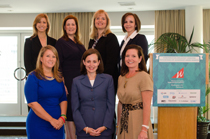 A TOUCH OF LEADERSHIP: At the PowerBrokers Breakfast of the WICT Washington, DC/Baltimore Chapter in Washington, DC on October 29, Touchstones of Leadership Award Honorees, were (top row, L-R) Discovery Comm's Catherine Frymark, Scripps Nets' Suzanne Underwald, Comcast's Samantha Callahan, TWC's Becky Bobzien-Simms, (bottom row, L-R) Travel Channel's Meghan Rodgers, the FCC's Michelle Carey & NBCU's Meredith Attwell Baker.






November 13, 2012

Inside The Beltway 11/13/12

Globalstar Inc. has asked the Federal Communications Commission (FCC) for permission to use its licensed MSS spectrum terrestrially to support mobile broadband apps throughout the United States. In its petition, the satellite group proposes two separate but complementary terrestrial services in the Big LEO band: a long-term, LTE-based service via all of its channels and a near-term terrestrial low-power service (TLPS) offering over its 2.4 GHz licenses. Near term, Globalstar seeks rule changes to allow the provision of TLPS within its spectrum at 2483.5 MHz-2495 MHz (AWS-5) and adjacent unlicensed Industrial, Scientific, and Medical Equipment (ISM) spectrum at 2473 MHz-2483.5 MHz. Long term, Globalstar wants the official nod to construct and operate a LTE system within its Big LEO spectrum after "an open and transparent rulemaking proceeding to resolve any technical issues," it says. Click here to read the entire Petition for Rulemaking…In an ex parte letter to FCC Secretary Marlene Dortch, the American Cable Association says it supports the idea of the Commission extending on an industry-wide basis the Dec. 1 compliance deadline (MB Docket No. 12-230) regarding a mandate that HD set-top boxes provided by cablecos meet an "open industry standard" for tuning, transport and remote control signaling. The group wants the agency it provide small cable operators with an additional six months to come into compliance with the IP output requirement beyond the extension granted the industry as a whole. "Without an additional extension of the compliance deadline for small cable operators, it can be reasonably expected that small operators will once again have to file, and the Media Bureau to address, numerous individual waiver requests based on the unavailability of equipment. For most small operators, the costs required to prepare and file such waivers are significant, and place additional financial strain on systems which are already disproportionately burdened by this equipment mandate," the group writes.