CableFAX Contest - Describe the cable industry in 5 words for a chance to win a $50 Amazon gift card!
Sign up for The Skinny from CableFAX - Free Weekly Eletter
Awards --
Call for Entries & Events:

CableFAX's Most Powerful Women in Cable Breakfast
November 21 - NYC
Photos from the Event

CableFAX's Best of the Web & Digital Marketing Awards
Deadline: December 6
Enter Today!

Webinars:

Establish Cable PR and Brand Leadership with Content Marketing
December 17
Register Now!

Selling TV Everywhere: Marketing and PR Strategies to Drive TVE Awareness
On-Demand

---
---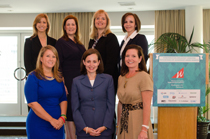 A TOUCH OF LEADERSHIP: At the PowerBrokers Breakfast of the WICT Washington, DC/Baltimore Chapter in Washington, DC on October 29, Touchstones of Leadership Award Honorees, were (top row, L-R) Discovery Comm's Catherine Frymark, Scripps Nets' Suzanne Underwald, Comcast's Samantha Callahan, TWC's Becky Bobzien-Simms, (bottom row, L-R) Travel Channel's Meghan Rodgers, the FCC's Michelle Carey & NBCU's Meredith Attwell Baker.






October 10, 2011

Henan Cable Provides Network DVR Via Motorola

Chinese operator Henan Cable has deployed the Motorola M3 Media Server for both video on demand (VOD) and network digital video recording (nDVR). The M3 Media Server family is a solid-state platform for the delivery of content across TV, PC and mobile devices.

Henan Cable's new Motorola M3 Media Server deployment provides a VOD content delivery network, enabling Henan Cable to offer its more than 3.6 million subscribers a vast library of on demand content, as well as provide those subscribers on demand access to live television through the nDVR feature inherent within the M3 system.

The Motorola M3 Media Server allows Henan Cable to centralize its growing library of movies, TV shows, music videos and other content, and deliver it all based on an analysis of show popularity and edge caching of popular content to servers closer to the subscribers.