Sign up for The Skinny from CableFAX - Free Weekly Eletter
Awards --
Call for Entries & Events:

CableMania with Cablefax & AXS TV - April 30
RSVP Today!

Call for Nominations - Top Operators
Nomination Deadline: May 2
Enter Now!

CableFAX's Digital & Tech Summit: May 21
Yale Club | NYC
Register Now!

Call for Entries - Program Awards
Entry Deadline: June 20
Enter Today!

Complete List of Events
Webinars:

Participation TV 2.0: Turning Audience Involvement Into Profit
May 7
Register Now!

Monetizing Social TV: New Tools and Tactics for Success
March 25
On-Demand

---
---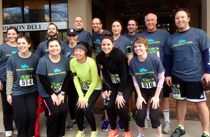 CABLE SHAPES UP! Members of CableFit #teamplatform at NCTA get ready to run a St. Patrick's Day 8K road race, spanning the U.S. Capitol grounds and National Mall on March 9, (back row, l. to r.): Julie Hance, Ethan Buch, Frank Gallagher, Kristin Buch, Steven Morris, Lisa Hamilton, Scot Donaldson, Rob Stoddard, Rick Stoddard; (front row, l. to r.): Kelly Allers, Kat Stewart, Esther Song, Carleigh Blewett, Lisa Otto. NCTA's team finished 11th in a field of 54.







December 12, 2012

Global Connections 12/12/12

Cambium Networks named IT, telecom and consumer-electronics supplier Actebis Computer Handels GmbH as its first Austrian distributor; the new agreement enables Cambium to introduce its point-to-point (PTP) and point-to-multipoint (PMP) solutions into the Austrian market. Actebis will supply Cambium's portfolio, including the new PMP 450, a fixed wireless broadband access solution, and the PTP 810i for use in high-power, indoor environments where long-distance support and spatial diversity are required…RGB Communications inked an exclusive distribution agreement, covering the U.K. and Ireland, with Celerity Technologies to distribute Celerity's pre-terminated, 100-percent fiber-optic cable with a detachable HDMI connector…Israel's Alvarion Ltd. teamed with the City of Richardson, Texas, for the deployment of an Alvarion Smart City solution in the 4.9 GHz licensed public-safety band. The Alvarion solution connects the city's high-quality video surveillance network that delivers live feeds to police headquarters and to a 24/7 Emergency Operations Center. The feeds can also be viewed from any PC monitor within the public-safety network. The network also supports the city's public-safety radio applications. In separate but related Alvarion news, CFO Lior Shemesh resigned to pursue other career opportunities. Avi Stern, vice president/Accounting and Finance, was appointed interim CFO.