Sign up for The Skinny from CableFAX - Free Weekly Eletter
Awards --
Call for Entries & Events:

CableFAX Most Powerful Women & Most Influential Minorities in Cable
Deadline: May 17
Free to Nominate

CableFAX Program Awards
Call for Entries: June 21
Enter today!

CableFAXIES & Sales Executive of the Year Awards Breakfast
June 24
Register today!

Complete List of Events

Webinars:

Vine, Viggle, GetGlue:
Leveraging the Newest Social Media Apps to Drive Engagement and Brand Awareness
On-Demand

Capitalizing on Cloud Management and Navigation

Video On Demand Next Practices: Capitalizing on the Latest Innovations
On Demand

Killer Cable Apps: Using Online Games and Apps to Drive Consumer Engagement
On Demand


---
---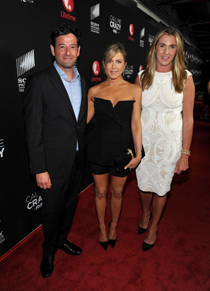 CALL ME CRAZY. On April 16, 2013, Lifetime and Sony Pictures Television held a premiere event for the Lifetime Original Movie "CALL Me Crazy: A Five Film" at the Pacific Design Center in Los Angeles. L to R: Rob Sharenow, evp, Programming, Lifetime Networks; Jennifer Aniston, Executive Producer of "Call Me Crazy"; and Nancy Dubuc, pres, Entertainment and Media, A+E Nets. Debuts April 20, 8pm. Photo by John Shearer/Invision for Lifetime/AP Images.





December 11, 2012

Global Connections 12/11/12

U.K.-based infrastructure company MS3 is using gear from Sweden's Transmode for its packet-optical networks, initially deploying a new business-access network in the city of Hull. The contract win is part of a major investment by MS3 to create a high-speed alternative communications provider for the city and the region. The Transmode TM-Series optical-networking system reportedly will enable MS3 to provide much services as enterprise 10-Gigabit Ethernet and Internet…KPN, a telecom/ICT service provider in the Netherlands, tapped Accenture to develop and maintain TV services based on the Accenture Video Solution. Financial terms were not disclosed. The deal has Accenture improving service performance and delivering KPN's interactive-TV service to multiple devices (TV, tablets and smartphones) along with adding features to the iTV and iTV Online services KPN already offers to Dutch retail and wholesale markets…In Japan, Fujitsu Limited, Nippon Telegraph and Telephone Corporation (NTT) and NEC Corporation (NEC) started a joint R&D effort aimed at "making the world's top-level, 400 Gbps/channel-class digital coherent optical transmissions technology." The trio will work to further enhance the performance and functionality of the digital coherent optical transmissions method, a key technology in optical transmissions. This R&D initiative was commissioned and is sponsored by Japan's Ministry of Internal Affairs and Communications (MIC) as part of the "Research and Development Project for the Ultra-high Speed and Green Photonic Networks" program…Costa Rican telecom regulator SUTEL will use Aircom's Asset tool to analyze and benchmark the performance of the country's mobile-network infrastructure in order to meet its aim of deploying mobile services to 95.42 percent of the country within five years. By using a common set of benchmarks, Asset compare measurements across all independent networks; those measurements then will be used to make policy decisions and to help ensure operators are meeting agreed quality standards.