Sign up for The Skinny from CableFAX - Free Weekly Eletter
Awards --
Call for Entries & Events:

CableFAX Most Powerful Women & Most Influential Minorities in Cable
Deadline: May 17
Free to Nominate

CableFAX Program Awards
Call for Entries: June 21
Enter today!

CableFAXIES & Sales Executive of the Year Awards Breakfast
June 24
Register today!

Complete List of Events

Webinars:

Vine, Viggle, GetGlue:
Leveraging the Newest Social Media Apps to Drive Engagement and Brand Awareness
On-Demand

Capitalizing on Cloud Management and Navigation

Video On Demand Next Practices: Capitalizing on the Latest Innovations
On Demand

Killer Cable Apps: Using Online Games and Apps to Drive Consumer Engagement
On Demand


---
---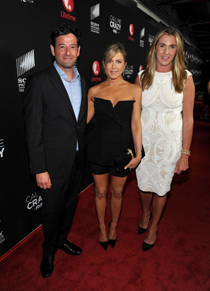 CALL ME CRAZY. On April 16, 2013, Lifetime and Sony Pictures Television held a premiere event for the Lifetime Original Movie "CALL Me Crazy: A Five Film" at the Pacific Design Center in Los Angeles. L to R: Rob Sharenow, evp, Programming, Lifetime Networks; Jennifer Aniston, Executive Producer of "Call Me Crazy"; and Nancy Dubuc, pres, Entertainment and Media, A+E Nets. Debuts April 20, 8pm. Photo by John Shearer/Invision for Lifetime/AP Images.





December 7, 2012

Global Connections 12/07/12

U.K.-based ip.access says Japan's DoCoMo Pacific is its latest customer for indoor home, office and enterprise 3G small cells; the first deployments will be in Guam, where the challenges of the local climate – especially typhoons – mean that the majority of buildings are of made of particularly dense concrete construction, difficult to penetrate with standard 3G outdoor network signals.