CableFAX Contest - Describe the cable industry in 5 words for a chance to win a $50 Amazon gift card!
Sign up for The Skinny from CableFAX - Free Weekly Eletter
Awards --
Call for Entries & Events:

CableFAX's Most Powerful Women in Cable Breakfast
November 21 - NYC
Photos from the Event

CableFAX's Best of the Web & Digital Marketing Awards
Deadline: December 6
Enter Today!

Webinars:

Establish Cable PR and Brand Leadership with Content Marketing
December 17
Register Now!

Selling TV Everywhere: Marketing and PR Strategies to Drive TVE Awareness
On-Demand

---
---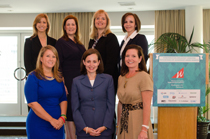 A TOUCH OF LEADERSHIP: At the PowerBrokers Breakfast of the WICT Washington, DC/Baltimore Chapter in Washington, DC on October 29, Touchstones of Leadership Award Honorees, were (top row, L-R) Discovery Comm's Catherine Frymark, Scripps Nets' Suzanne Underwald, Comcast's Samantha Callahan, TWC's Becky Bobzien-Simms, (bottom row, L-R) Travel Channel's Meghan Rodgers, the FCC's Michelle Carey & NBCU's Meredith Attwell Baker.






December 6, 2012

Global Connections 12/06/12

Canada's Redknee, a provider of business-critical billing and charging software and solutions for communications service providers, has been revealed as the buyer for Nokia Siemens Networks' Business Support Systems (BSS) business. Some 1,200 employees would transfer to the new owner. Redknee is paying nearly $20 million in cash at closing plus a maximum of $32.7 million for certain performance-based cash earn-outs expected to be paid during the 12 to 36 months post-closing. The purchase will be financed through a combination of cash on Redknee's balance sheet and debt facilities…ADTRAN Inc.'s GPON platform is enabling the Forthnet to implement what it says is the first Fiber-to-the-Home (FTTH) pilot network in the metropolitan area of Athens. Triple-play provider Forthnet runs a DSL network; its customers will be migrated to the new FTTH services.