Sign up for The Skinny from CableFAX - Free Weekly Eletter
Awards --
Call for Entries & Events:

CableMania with Cablefax & AXS TV - April 30
RSVP Today!

Call for Nominations - Top Operators
Nomination Deadline: May 2
Enter Now!

CableFAX's Digital & Tech Summit: May 21
Yale Club | NYC
Register Now!

Call for Entries - Program Awards
Entry Deadline: June 20
Enter Today!

Complete List of Events
Webinars:

Participation TV 2.0: Turning Audience Involvement Into Profit
May 7
Register Now!

Monetizing Social TV: New Tools and Tactics for Success
March 25
On-Demand

---
---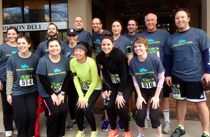 CABLE SHAPES UP! Members of CableFit #teamplatform at NCTA get ready to run a St. Patrick's Day 8K road race, spanning the U.S. Capitol grounds and National Mall on March 9, (back row, l. to r.): Julie Hance, Ethan Buch, Frank Gallagher, Kristin Buch, Steven Morris, Lisa Hamilton, Scot Donaldson, Rob Stoddard, Rick Stoddard; (front row, l. to r.): Kelly Allers, Kat Stewart, Esther Song, Carleigh Blewett, Lisa Otto. NCTA's team finished 11th in a field of 54.







December 6, 2012

Global Connections 12/06/12

Canada's Redknee, a provider of business-critical billing and charging software and solutions for communications service providers, has been revealed as the buyer for Nokia Siemens Networks' Business Support Systems (BSS) business. Some 1,200 employees would transfer to the new owner. Redknee is paying nearly $20 million in cash at closing plus a maximum of $32.7 million for certain performance-based cash earn-outs expected to be paid during the 12 to 36 months post-closing. The purchase will be financed through a combination of cash on Redknee's balance sheet and debt facilities…ADTRAN Inc.'s GPON platform is enabling the Forthnet to implement what it says is the first Fiber-to-the-Home (FTTH) pilot network in the metropolitan area of Athens. Triple-play provider Forthnet runs a DSL network; its customers will be migrated to the new FTTH services.