CableFAX Contest - Describe the cable industry in 5 words for a chance to win a $50 Amazon gift card!
Sign up for The Skinny from CableFAX - Free Weekly Eletter
Awards --
Call for Entries & Events:

CableFAX's Most Powerful Women in Cable Breakfast
November 21 - NYC
Photos from the Event

CableFAX's Best of the Web & Digital Marketing Awards
Deadline: December 6
Enter Today!

Webinars:

Establish Cable PR and Brand Leadership with Content Marketing
December 17
Register Now!

Selling TV Everywhere: Marketing and PR Strategies to Drive TVE Awareness
On-Demand

---
---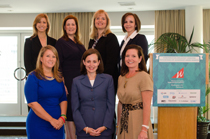 A TOUCH OF LEADERSHIP: At the PowerBrokers Breakfast of the WICT Washington, DC/Baltimore Chapter in Washington, DC on October 29, Touchstones of Leadership Award Honorees, were (top row, L-R) Discovery Comm's Catherine Frymark, Scripps Nets' Suzanne Underwald, Comcast's Samantha Callahan, TWC's Becky Bobzien-Simms, (bottom row, L-R) Travel Channel's Meghan Rodgers, the FCC's Michelle Carey & NBCU's Meredith Attwell Baker.






December 3, 2012

Global Connections 12/03/12

Beam Communications Pty Limited, a wholly owned subsidiary of World Reach Limited, will be working with Iridium Communications to define a new product-development initiative for which Beam will be the primary contractor and OEM of the end-user solution. "Beam was appointed a value-added manufacturer 10 years ago and since this time has developed a strategic range of Iridium-based accessories and terminals for the Iridium satellite network," says Joel Thompson, vice president/Product Line Management at Iridium Communications. "This new initiative, however, is the first of its kind, whereby Iridium is directly utilizing Beam's engineering and manufacturing expertise to design, develop and manufacture a new dedicated Iridium product." The prospective launch of the new product will be in the second half of 2013…4G chipmaker Sequans Communications S.A. says its chips are powering "a significant portion" of the LTE devices to be used in the next phase of China Mobile's large-scale trial of TD-LTE technology in country. Sequans technology is operating in the China Mobile network expansion in several devices, including USB dongles, mobile routers and CPE manufactured by Nationz and Primemobi.