Sign up for The Skinny from CableFAX - Free Weekly Eletter
Awards --
Call for Entries & Events:

CableMania with Cablefax & AXS TV - April 30
RSVP Today!

Call for Nominations - Top Operators
Nomination Deadline: May 2
Enter Now!

CableFAX's Digital & Tech Summit: May 21
Yale Club | NYC
Register Now!

Call for Entries - Program Awards
Entry Deadline: June 20
Enter Today!

Complete List of Events
Webinars:

Participation TV 2.0: Turning Audience Involvement Into Profit
May 7
Register Now!

Monetizing Social TV: New Tools and Tactics for Success
March 25
On-Demand

---
---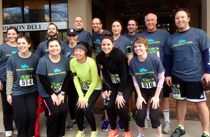 CABLE SHAPES UP! Members of CableFit #teamplatform at NCTA get ready to run a St. Patrick's Day 8K road race, spanning the U.S. Capitol grounds and National Mall on March 9, (back row, l. to r.): Julie Hance, Ethan Buch, Frank Gallagher, Kristin Buch, Steven Morris, Lisa Hamilton, Scot Donaldson, Rob Stoddard, Rick Stoddard; (front row, l. to r.): Kelly Allers, Kat Stewart, Esther Song, Carleigh Blewett, Lisa Otto. NCTA's team finished 11th in a field of 54.







December 3, 2012

Global Connections 12/03/12

Beam Communications Pty Limited, a wholly owned subsidiary of World Reach Limited, will be working with Iridium Communications to define a new product-development initiative for which Beam will be the primary contractor and OEM of the end-user solution. "Beam was appointed a value-added manufacturer 10 years ago and since this time has developed a strategic range of Iridium-based accessories and terminals for the Iridium satellite network," says Joel Thompson, vice president/Product Line Management at Iridium Communications. "This new initiative, however, is the first of its kind, whereby Iridium is directly utilizing Beam's engineering and manufacturing expertise to design, develop and manufacture a new dedicated Iridium product." The prospective launch of the new product will be in the second half of 2013…4G chipmaker Sequans Communications S.A. says its chips are powering "a significant portion" of the LTE devices to be used in the next phase of China Mobile's large-scale trial of TD-LTE technology in country. Sequans technology is operating in the China Mobile network expansion in several devices, including USB dongles, mobile routers and CPE manufactured by Nationz and Primemobi.