Sign up for The Skinny from CableFAX - Free Weekly Eletter
Awards --
Call for Entries & Events:

CableMania with Cablefax & AXS TV - April 30
RSVP Today!

Call for Nominations - Top Operators
Nomination Deadline: May 2
Enter Now!

CableFAX's Digital & Tech Summit: May 21
Yale Club | NYC
Register Now!

Call for Entries - Program Awards
Entry Deadline: June 20
Enter Today!

Complete List of Events
Webinars:

Participation TV 2.0: Turning Audience Involvement Into Profit
May 7
Register Now!

Monetizing Social TV: New Tools and Tactics for Success
March 25
On-Demand

---
---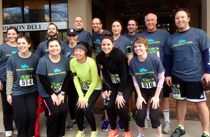 CABLE SHAPES UP! Members of CableFit #teamplatform at NCTA get ready to run a St. Patrick's Day 8K road race, spanning the U.S. Capitol grounds and National Mall on March 9, (back row, l. to r.): Julie Hance, Ethan Buch, Frank Gallagher, Kristin Buch, Steven Morris, Lisa Hamilton, Scot Donaldson, Rob Stoddard, Rick Stoddard; (front row, l. to r.): Kelly Allers, Kat Stewart, Esther Song, Carleigh Blewett, Lisa Otto. NCTA's team finished 11th in a field of 54.







November 29, 2012

Global Connections 11/29/12

Earlier today, Alcatel-Lucent inked a four-year contract with BT Retail for the company's Motive customer-experience-management solution, thus helping "millions of BT's broadband customers in the UK stay online by providing self-service capabilities such as BT's Desktop Help as well as managing over five million home devices and over three million Wi-Fi hot spots throughout the country," Alcatel says. The contract also includes a high-end data-collection and -management framework dubbed Data Collection Manager aimed at assisting BT to remotely monitor performance of its home devices and to take fix any problems before the customer sees them…Using the JGN-X cloud environment managed by the National Institute of Information and Communications Technology (NICT) in Japan, OKI and Hokkaido Television Broadcasting (HTB) jointly set up the OKI MediaServer, an OKI video-distribution system that complies with the ITU-T IPTV standards. Last month, the partners launched the experimental ITU IPTV IPv6 global test bed for content distribution created by HTB based on the LIME standard specification. The plan calls for eventually expanding the network to approximately 10 countries by the end of March 2015, based on requests from overseas service providers considering adopting the IPTV Standard.