Sign up for The Skinny from CableFAX - Free Weekly Eletter
Awards --
Call for Entries & Events:

CableMania with Cablefax & AXS TV - April 30
RSVP Today!

Call for Nominations - Top Operators
Nomination Deadline: May 2
Enter Now!

CableFAX's Digital & Tech Summit: May 21
Yale Club | NYC
Register Now!

Call for Entries - Program Awards
Entry Deadline: June 20
Enter Today!

Complete List of Events
Webinars:

Participation TV 2.0: Turning Audience Involvement Into Profit
May 7
Register Now!

Monetizing Social TV: New Tools and Tactics for Success
March 25
On-Demand

---
---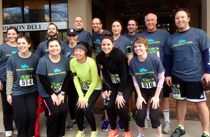 CABLE SHAPES UP! Members of CableFit #teamplatform at NCTA get ready to run a St. Patrick's Day 8K road race, spanning the U.S. Capitol grounds and National Mall on March 9, (back row, l. to r.): Julie Hance, Ethan Buch, Frank Gallagher, Kristin Buch, Steven Morris, Lisa Hamilton, Scot Donaldson, Rob Stoddard, Rick Stoddard; (front row, l. to r.): Kelly Allers, Kat Stewart, Esther Song, Carleigh Blewett, Lisa Otto. NCTA's team finished 11th in a field of 54.







November 28, 2012

Global Connections 11/28/12

LG U+ has deployed Envivio's encoding solutions to power its new LG u+tv G multiscreen service, the first service offering in South Korea to support Google TV. LG u+tv G subscribers have access to live channels and on-demand TV integrated with apps like Search, YouTube, Google Play and Chrome via an Internet-connected set-top box. The operator uses Envivio encoders to power its TV Everywhere service, providing more than 126 channels of video to TVs, PCs, tablets and smartphones…Infinera and its Japanese partner Nissho Electronics say they successfully demonstrated the Infinera DTN-X platform they say deliver 8 Terabits per second (Tb/s) capacity using production ready super-channels across 800 kilometers of ITU-T G.653 Dispersion Shifted Fiber (DSF). The demo was performed at the NET Frontier Center. Infinera also showed off the FlexCoherent capabilities of the system, showcasing the ability to software-select different modulation formats like QPSK and BPSK to optimize reach and capacity. The demo's 100GbE service was provisioned in fewer than 100 seconds, "showcasing the simplicity of DTN-X and its ability to activate services much faster than conventional solutions," the company adds.