CableFAX Contest - Describe the cable industry in 5 words for a chance to win a $50 Amazon gift card!
Sign up for The Skinny from CableFAX - Free Weekly Eletter
Awards --
Call for Entries & Events:

CableFAX's Most Powerful Women in Cable Breakfast
November 21 - NYC
Photos from the Event

CableFAX's Best of the Web & Digital Marketing Awards
Deadline: December 6
Enter Today!

Webinars:

Establish Cable PR and Brand Leadership with Content Marketing
December 17
Register Now!

Selling TV Everywhere: Marketing and PR Strategies to Drive TVE Awareness
On-Demand

---
---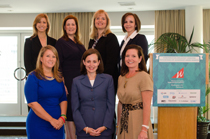 A TOUCH OF LEADERSHIP: At the PowerBrokers Breakfast of the WICT Washington, DC/Baltimore Chapter in Washington, DC on October 29, Touchstones of Leadership Award Honorees, were (top row, L-R) Discovery Comm's Catherine Frymark, Scripps Nets' Suzanne Underwald, Comcast's Samantha Callahan, TWC's Becky Bobzien-Simms, (bottom row, L-R) Travel Channel's Meghan Rodgers, the FCC's Michelle Carey & NBCU's Meredith Attwell Baker.






November 26, 2012

Global Connections 11/26/12

An agreement between Nordic TeleCom and Cisco Systems Finland allows new value-added solutions to be connected with Cisco collaboration products via Nordic's cloud services. Notes Nordic Telecom CEO Esa Lahtinen, "Concrete examples of such value-added services include customized reporting and statistical analysis straight from the cloud, as well as integrating a call-back system into Cisco Contact Center solutions - with no installations or start-up costs"...SES will team with the European Space Agency (ESA) to support satellite broadband communications, with SES' 100-percent owned satellite broadband affiliate, SES Broadband Services, offering a range of broadband services at "special conditions" to industrial players participating in the ARTES Applications Projects led by ESA. The ARTES (Advanced Research in Telecommunications Systems) initiative aims to promote competitiveness of European industry via the use of satellites in such functions as broadcasting, multimedia and mobile communications, data relay, search and rescue, and aviation services. The new agreement runs through Sept. 15, 2014…Cable & Wireless Communications' Monaco business, Monaco Telecom, is partnering with Gibraltar-based Gibtelecom to connect landing stations on the Europe India Gateway (EIG) submarine cable; Monaco Telecom also tapped Gibtelecom to be its preferred carrier on the EIG system…Reports out of the U.K. say Ofcom okayed a framework for the operation of white space devices that would run between existing UHF spectrum used for the broadcast of digital terrestrial television (DTT). What the agency now seeks are details regarding any possible interference to existing UHF users. The industry has until Jan. 10, 2013, to offer the detailed technical specification of the wireless communication protocols between the devices, and the communications protocols between the devices and databases…EchoStar Corp. and Arianespace SA jointly will launch multiple new satellites during the next few years from Europe's spaceport in French Guiana. The two have worked together since 1996.