Sign up for The Skinny from CableFAX - Free Weekly Eletter
Awards --
Call for Entries & Events:

CableFAXIES Awards
More Information

CableMania: A Magical Mystery Tour with Cablefax & AXS TV - April 30
RSVP Today!

CableFAX Tech Breakfast & Roundtable - May 1
Complimentary Registration!

Call for Nominations - Top Operators
Nomination Deadline: May 2
Enter Now!

CableFAX's Digital & Tech Summit: May 21
Yale Club | NYC
Register Now!

Complete List of Events
Webinars:

Complimentary Webinar:
Boost Viewer Engagement with Entertainment Metadata
April 16
Register for Free

Participation TV 2.0: Turning Audience Involvement Into Profit
May 7
Register Now!

Monetizing Social TV: New Tools and Tactics for Success
March 25
On-Demand

---
---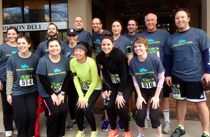 CABLE SHAPES UP! Members of CableFit #teamplatform at NCTA get ready to run a St. Patrick's Day 8K road race, spanning the U.S. Capitol grounds and National Mall on March 9, (back row, l. to r.): Julie Hance, Ethan Buch, Frank Gallagher, Kristin Buch, Steven Morris, Lisa Hamilton, Scot Donaldson, Rob Stoddard, Rick Stoddard; (front row, l. to r.): Kelly Allers, Kat Stewart, Esther Song, Carleigh Blewett, Lisa Otto. NCTA's team finished 11th in a field of 54.







November 26, 2012

Global Connections 11/26/12

An agreement between Nordic TeleCom and Cisco Systems Finland allows new value-added solutions to be connected with Cisco collaboration products via Nordic's cloud services. Notes Nordic Telecom CEO Esa Lahtinen, "Concrete examples of such value-added services include customized reporting and statistical analysis straight from the cloud, as well as integrating a call-back system into Cisco Contact Center solutions - with no installations or start-up costs"...SES will team with the European Space Agency (ESA) to support satellite broadband communications, with SES' 100-percent owned satellite broadband affiliate, SES Broadband Services, offering a range of broadband services at "special conditions" to industrial players participating in the ARTES Applications Projects led by ESA. The ARTES (Advanced Research in Telecommunications Systems) initiative aims to promote competitiveness of European industry via the use of satellites in such functions as broadcasting, multimedia and mobile communications, data relay, search and rescue, and aviation services. The new agreement runs through Sept. 15, 2014…Cable & Wireless Communications' Monaco business, Monaco Telecom, is partnering with Gibraltar-based Gibtelecom to connect landing stations on the Europe India Gateway (EIG) submarine cable; Monaco Telecom also tapped Gibtelecom to be its preferred carrier on the EIG system…Reports out of the U.K. say Ofcom okayed a framework for the operation of white space devices that would run between existing UHF spectrum used for the broadcast of digital terrestrial television (DTT). What the agency now seeks are details regarding any possible interference to existing UHF users. The industry has until Jan. 10, 2013, to offer the detailed technical specification of the wireless communication protocols between the devices, and the communications protocols between the devices and databases…EchoStar Corp. and Arianespace SA jointly will launch multiple new satellites during the next few years from Europe's spaceport in French Guiana. The two have worked together since 1996.