CableFAX Contest - Describe the cable industry in 5 words for a chance to win a $50 Amazon gift card!
Sign up for The Skinny from CableFAX - Free Weekly Eletter
Awards --
Call for Entries & Events:

CableFAX's Most Powerful Women in Cable Breakfast
November 21 - NYC
Photos from the Event

CableFAX's Best of the Web & Digital Marketing Awards
Deadline: December 6
Enter Today!

Webinars:

Establish Cable PR and Brand Leadership with Content Marketing
December 17
Register Now!

Selling TV Everywhere: Marketing and PR Strategies to Drive TVE Awareness
On-Demand

---
---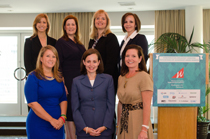 A TOUCH OF LEADERSHIP: At the PowerBrokers Breakfast of the WICT Washington, DC/Baltimore Chapter in Washington, DC on October 29, Touchstones of Leadership Award Honorees, were (top row, L-R) Discovery Comm's Catherine Frymark, Scripps Nets' Suzanne Underwald, Comcast's Samantha Callahan, TWC's Becky Bobzien-Simms, (bottom row, L-R) Travel Channel's Meghan Rodgers, the FCC's Michelle Carey & NBCU's Meredith Attwell Baker.






November 21, 2012

Global Connections 11/21/12

As part of its new triple-play launch, Time Warner Cable is offering the Global Penny Phone Plan that features calling to landline phones in more than 40 countries worldwide for as little as one penny per minute along with competitive rates to other parts of the world. The triple-play deal starts at $89.99 per month, with the Global Penny Phone plan costing an additional $2.95 a month…Swisscom is the newest customer for VisualOn Inc., a multimedia software company that enables high-quality video and audio across connected devices. The deal between the two enables the telecom provider to provide live and on-demand TV content on Android devices in Switzerland with the integration of the OnStream MediaPlayer+. The app also allows Swisscom to expand its media platform to now offer Swiss Android users 80 channels of programming and more than 3,000 sporting events a year…U.K.-based Colt Technology Services now can offer 100 Gigabit Ethernet (GbE) services to its customers, using the Infinera DTN platform over its long-distance network…The Hertz Corporation and Italy's Wind Mobile launched a mobile Wi-Fi service in Italy for Hertz car rental customers; the Number One car-rental agency offers the same service with operators in the U.K., Spain and the Canary Islands, Australia and New Zealand. Using a pocket-sized device, Hertz customers can browse at high speed (up to 21 Mbps) with unlimited data traffic for downloading and uploading. Customers also can connect as many as eight wireless devices at the same time. For the first 7 days, the service costs $10.23 per day (plus VAT and airport taxes), ramping to $71.67 per day, maximum.