CableFAX Contest - Describe the cable industry in 5 words for a chance to win a $50 Amazon gift card!
Sign up for The Skinny from CableFAX - Free Weekly Eletter
Awards --
Call for Entries & Events:

CableFAX's Most Powerful Women in Cable Breakfast
November 21 - NYC
Photos from the Event

CableFAX's Best of the Web & Digital Marketing Awards
Deadline: December 6
Enter Today!

Webinars:

Establish Cable PR and Brand Leadership with Content Marketing
December 17
Register Now!

Selling TV Everywhere: Marketing and PR Strategies to Drive TVE Awareness
On-Demand

---
---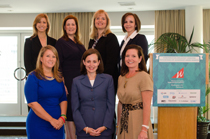 A TOUCH OF LEADERSHIP: At the PowerBrokers Breakfast of the WICT Washington, DC/Baltimore Chapter in Washington, DC on October 29, Touchstones of Leadership Award Honorees, were (top row, L-R) Discovery Comm's Catherine Frymark, Scripps Nets' Suzanne Underwald, Comcast's Samantha Callahan, TWC's Becky Bobzien-Simms, (bottom row, L-R) Travel Channel's Meghan Rodgers, the FCC's Michelle Carey & NBCU's Meredith Attwell Baker.






November 14, 2012

Global Connections 11/14/12

Canada's Miranda Technologies closed a deal with Beijing Television to supply three of Miranda's NVISION 8144 routers along with Kaleido-Modular multiviewers and Densité modular products. Installation at BTV is expected in the first quarter of 2013...Telefónica Czech Republic now is using the Amdocs Document Designer for bill design, publication and delivery across fixed-line and mobile operations. Interfacing with multiple billing and ERP (enterprise resource planning) systems, Amdocs Document Designer reportedly allows Telefónica Czech Republic to promote new price plans and product bundles quickly, and to offer single billing…UTStarcom Holdings Corp. now owns 44 percent of aioTV Inc., a global cloud-based video aggregation and distribution platform. The deal gives UTStarcom access to technology that will bolster its rollout of subscription-based value added media services while giving aioTV a partner with whom to offer its technology in emerging markets in Asia. aioTV developed the first middleware platform that combines conditional access and content management tools, allowing operators to aggregate multiple sources of content into a TV-like experience across connected devices. UTStarcom says it will leverage its relationships with regional cable providers and broadcasters to offer aioTV's technology in Asia.