CableFAX Contest - Describe the cable industry in 5 words for a chance to win a $50 Amazon gift card!
Sign up for The Skinny from CableFAX - Free Weekly Eletter
Awards --
Call for Entries & Events:

CableFAX's Most Powerful Women in Cable Breakfast
November 21 - NYC
Photos from the Event

CableFAX's Best of the Web & Digital Marketing Awards
Deadline: December 6
Enter Today!

Webinars:

Establish Cable PR and Brand Leadership with Content Marketing
December 17
Register Now!

Selling TV Everywhere: Marketing and PR Strategies to Drive TVE Awareness
On-Demand

---
---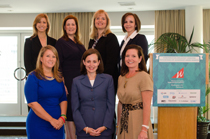 A TOUCH OF LEADERSHIP: At the PowerBrokers Breakfast of the WICT Washington, DC/Baltimore Chapter in Washington, DC on October 29, Touchstones of Leadership Award Honorees, were (top row, L-R) Discovery Comm's Catherine Frymark, Scripps Nets' Suzanne Underwald, Comcast's Samantha Callahan, TWC's Becky Bobzien-Simms, (bottom row, L-R) Travel Channel's Meghan Rodgers, the FCC's Michelle Carey & NBCU's Meredith Attwell Baker.






November 12, 2012

Global Connections 11/12/12

U.K. regulator Ofcom has priced 4G spectrum at $2 billion, pursuant to an upcoming auction of spectrum garnered from the analog-to-digital TV transition in that country. Applications to bid are being accepted through Dec. 11; qualified players will place their bids in January 2013, and the winners will be announced in February or March 2013…TeliaSonera International Carrier (TSIC) is using Infinera's DTN-X with Infinera Instant Bandwidth to deliver 100 Gigabits per second (100G) of optical transport capacity via software control across its North American network that comprises 18,000 kilometers of fiber network…The newly launched U.K. TalkTalk TV service delivering live multicast and on-demand content via the recently released YouView-connected TV set-top box reportedly is the first major TV service to use high-performance video compression technology from ATEME. TalkTalk says it selected ATEME's TITAN platform for the YouView-based service "after being highly impressed by the picture quality delivered by the underlying software encoder called EAVC4." The EAVC4 video encoding architecture combines multiprocessor and multicore 64-bit architecture, and multithreading from slice level up through macro block level to achieve efficiency gains.