Sign up for The Skinny from CableFAX - Free Weekly Eletter
Awards --
Call for Entries & Events:

CableMania: A Magical Mystery Tour with Cablefax & AXS TV - April 30
RSVP Today!

CableFAX Tech Breakfast & Roundtable - May 1
Complimentary Registration!

Call for Nominations - Top Operators
Nomination Deadline: May 2
Enter Now!

CableFAX's Digital & Tech Summit: May 21
Yale Club | NYC
Register Now!

Complete List of Events
Webinars:

Participation TV 2.0: Turning Audience Involvement Into Profit
May 7
Register Now!

Monetizing Social TV: New Tools and Tactics for Success
March 25
On-Demand

---
---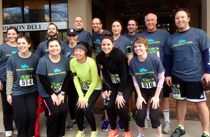 CABLE SHAPES UP! Members of CableFit #teamplatform at NCTA get ready to run a St. Patrick's Day 8K road race, spanning the U.S. Capitol grounds and National Mall on March 9, (back row, l. to r.): Julie Hance, Ethan Buch, Frank Gallagher, Kristin Buch, Steven Morris, Lisa Hamilton, Scot Donaldson, Rob Stoddard, Rick Stoddard; (front row, l. to r.): Kelly Allers, Kat Stewart, Esther Song, Carleigh Blewett, Lisa Otto. NCTA's team finished 11th in a field of 54.







November 12, 2012

Global Connections 11/12/12

U.K. regulator Ofcom has priced 4G spectrum at $2 billion, pursuant to an upcoming auction of spectrum garnered from the analog-to-digital TV transition in that country. Applications to bid are being accepted through Dec. 11; qualified players will place their bids in January 2013, and the winners will be announced in February or March 2013…TeliaSonera International Carrier (TSIC) is using Infinera's DTN-X with Infinera Instant Bandwidth to deliver 100 Gigabits per second (100G) of optical transport capacity via software control across its North American network that comprises 18,000 kilometers of fiber network…The newly launched U.K. TalkTalk TV service delivering live multicast and on-demand content via the recently released YouView-connected TV set-top box reportedly is the first major TV service to use high-performance video compression technology from ATEME. TalkTalk says it selected ATEME's TITAN platform for the YouView-based service "after being highly impressed by the picture quality delivered by the underlying software encoder called EAVC4." The EAVC4 video encoding architecture combines multiprocessor and multicore 64-bit architecture, and multithreading from slice level up through macro block level to achieve efficiency gains.