CableFAX Contest - Describe the cable industry in 5 words for a chance to win a $50 Amazon gift card!
Sign up for The Skinny from CableFAX - Free Weekly Eletter
Awards --
Call for Entries & Events:

CableFAX's Most Powerful Women in Cable Breakfast
November 21 - NYC
Photos from the Event

CableFAX's Best of the Web & Digital Marketing Awards
Deadline: December 6
Enter Today!

Webinars:

Establish Cable PR and Brand Leadership with Content Marketing
December 17
Register Now!

Selling TV Everywhere: Marketing and PR Strategies to Drive TVE Awareness
On-Demand

---
---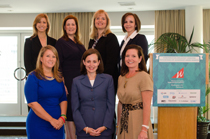 A TOUCH OF LEADERSHIP: At the PowerBrokers Breakfast of the WICT Washington, DC/Baltimore Chapter in Washington, DC on October 29, Touchstones of Leadership Award Honorees, were (top row, L-R) Discovery Comm's Catherine Frymark, Scripps Nets' Suzanne Underwald, Comcast's Samantha Callahan, TWC's Becky Bobzien-Simms, (bottom row, L-R) Travel Channel's Meghan Rodgers, the FCC's Michelle Carey & NBCU's Meredith Attwell Baker.






November 19, 2012

Events 11/19/12

MCNC, the private, not-for-profit operator of the North Carolina Research and Education Network (NCREN), notes that more than 200 educators, researchers, government officials and business leaders from all over the state gathered at Elon University late last week to "think big" about the future of high-speed Internet, networking and the applications broadband enables. This year's "think big" theme highlighted both the current work of network constituents as well as the future of big data and broadband, health care, K-20 education, video, cloud computing, fiber expansion, shared services, and the role broadband plays in economic development and job creation in North Carolina. In addition, MCNC President and CEO Joe Freddoso provided an update on the $144 million Golden LEAF Rural Broadband Initiative, saying the second phase of the project is 90-percent complete, with the overall project scheduled to be finished in Spring 2013.