CableFAX Contest - Describe the cable industry in 5 words for a chance to win a $50 Amazon gift card!
Sign up for The Skinny from CableFAX - Free Weekly Eletter
Awards --
Call for Entries & Events:

CableFAX's Most Powerful Women in Cable Breakfast
November 21 - NYC
Photos from the Event

CableFAX's Best of the Web & Digital Marketing Awards
Deadline: December 6
Enter Today!

Webinars:

Establish Cable PR and Brand Leadership with Content Marketing
December 17
Register Now!

Selling TV Everywhere: Marketing and PR Strategies to Drive TVE Awareness
On-Demand

---
---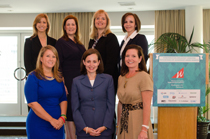 A TOUCH OF LEADERSHIP: At the PowerBrokers Breakfast of the WICT Washington, DC/Baltimore Chapter in Washington, DC on October 29, Touchstones of Leadership Award Honorees, were (top row, L-R) Discovery Comm's Catherine Frymark, Scripps Nets' Suzanne Underwald, Comcast's Samantha Callahan, TWC's Becky Bobzien-Simms, (bottom row, L-R) Travel Channel's Meghan Rodgers, the FCC's Michelle Carey & NBCU's Meredith Attwell Baker.






November 9, 2012

Events 11/09/12

On Nov. 12, Women in Cable Telecommunications (WICT) will hold its first international event in London, sponsored by Discovery Communications and marking the debut of the group's U.K. chapter. There currently are 19 U.S. WICT chapters. "Our mission is to develop women leaders who transform our industry, and we are pleased to extend the advantages of the WICT network to our colleagues in the U.K. and thank our U.K. volunteers for their time and expertise during our planning phases," comments Maria E. Brennan, CAE, WICT's president/CEO. "Thanks to advancements in technology, we are better equipped than ever to grow our footprint and help create training programs and networking opportunities on a global scale"…The world's newest premium motorsport and entertainment venue, Circuit of The Americas in Austin, Texas, not only will host this month's Formula One U.S. Grand Prix race, it also features one of the fastest and most state-of-the-art high-speed data and wireless networks, says AT&T, which provides the power. Circuit of The Americas is the first circuit in global motorsports to have an entirely IP-based infrastructure that handles voice, data and HD video, and offering fixed and mobile access; At the core is the Race Control room that oversees 44 cameras around the circuit, giving event organizers access to the most up-to-date information from around the track. The AT&T team installed nearly 100 miles of internal cabling to connect all the venue systems, more than 20 miles of fiber-optic backbone, and 12 terabytes of image storage. AT&T also is sponsoring the onsite, 44,000-sq.-ft. Circuit of The Americas Events and Conference Center, a flexible, multiuse space.