Sign up for The Skinny from CableFAX - Free Weekly Eletter
Awards --
Call for Entries & Events:

CableFAX Most Powerful Women & Most Influential Minorities in Cable
Deadline: May 17
Free to Nominate

CableFAX Program Awards
Call for Entries: June 21
Enter today!

CableFAXIES & Sales Executive of the Year Awards Breakfast
June 24
Register today!

Complete List of Events

Webinars:

Vine, Viggle, GetGlue:
Leveraging the Newest Social Media Apps to Drive Engagement and Brand Awareness
On-Demand

Capitalizing on Cloud Management and Navigation

Video On Demand Next Practices: Capitalizing on the Latest Innovations
On Demand

Killer Cable Apps: Using Online Games and Apps to Drive Consumer Engagement
On Demand


---
---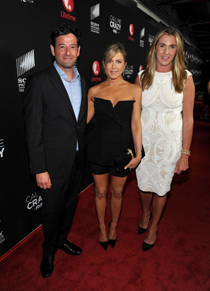 CALL ME CRAZY. On April 16, 2013, Lifetime and Sony Pictures Television held a premiere event for the Lifetime Original Movie "CALL Me Crazy: A Five Film" at the Pacific Design Center in Los Angeles. L to R: Rob Sharenow, evp, Programming, Lifetime Networks; Jennifer Aniston, Executive Producer of "Call Me Crazy"; and Nancy Dubuc, pres, Entertainment and Media, A+E Nets. Debuts April 20, 8pm. Photo by John Shearer/Invision for Lifetime/AP Images.





December 14, 2012

Deals Of The Day 12/14/12

Looking to own the whole shebang, majority shareholder Sprint Nextel is offering $2.1 billion ($2.90 per share) to buy the 49 percent of Clearwire's stock it doesn't already own; Sprint's potential majority owner, Softbank, capped any offer at $3). The offer is considered by many in the industry to be bargain-basement, but it may be the key to Clearwire's future survival. The offer was vetted by Sprint's board and now is under consideration by Clearwire. And just to cement its good intent, Sprint says it will give Clearwire $800 million to keep operating before a deal even closes…Zayo Group LLC inked the definitive paperwork to buy Litecast/Balticore LLC, a Baltimore provider of metro bandwidth infrastructure services, for $22 million. Litecast's MAN connects more than 110 on-net buildings, including all of the city's major datacenters and carrier hotel facilities. The purchase, according to Zayo, complements its recently acquired AboveNet and FiberGate networks in the Washington, D.C., and northern Virginia area…SYNNEX Canada Limited, a wholly owned subsidiary of SYNNEX Corporation, will sell the AirTouch SmartLinX "super router" through SYNNEX Canada's retail channel as a part of the distributor's offerings in the "connected home" category. The AirTouch SmartLinX, made by AirTouch Communications, lets smartphone users connect to their landline services…An agreement between Cox Communications and The Walt Disney Company will allow Cox to deliver Disney's lineup of sports, news and entertainment content to Cox TV customers on a "TV Everywhere" platform. The companies also announced that ESPNEWS and ESPN Classic will be added to Cox TV Connect, Cox's proprietary app that allows customers to watch live TV on the iPad, iPhone and iPod touch from anywhere in their homes.