CableFAX Contest - Describe the cable industry in 5 words for a chance to win a $50 Amazon gift card!
Sign up for The Skinny from CableFAX - Free Weekly Eletter
Awards --
Call for Entries & Events:

CableFAX's Most Powerful Women in Cable Breakfast
November 21 - NYC
Photos from the Event

CableFAX's Best of the Web & Digital Marketing Awards
Deadline: December 6
Enter Today!

Webinars:

Establish Cable PR and Brand Leadership with Content Marketing
December 17
Register Now!

Selling TV Everywhere: Marketing and PR Strategies to Drive TVE Awareness
On-Demand

---
---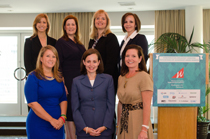 A TOUCH OF LEADERSHIP: At the PowerBrokers Breakfast of the WICT Washington, DC/Baltimore Chapter in Washington, DC on October 29, Touchstones of Leadership Award Honorees, were (top row, L-R) Discovery Comm's Catherine Frymark, Scripps Nets' Suzanne Underwald, Comcast's Samantha Callahan, TWC's Becky Bobzien-Simms, (bottom row, L-R) Travel Channel's Meghan Rodgers, the FCC's Michelle Carey & NBCU's Meredith Attwell Baker.






December 12, 2012

Deals Of The Day 12/12/12

Infinera completed its DTN Platform 100 Gigabit Ethernet (GbE) services deployment on the Long Island MAN portion of the U.S. Department of Energy's (DOE) Energy Sciences Network (ESnet). Leveraging ESnet's existing Infinera Digital Optical Network, ESnet will offer 100 GbE services from DOE's Brookhaven National Laboratory to data centers in Manhattan and back onto ESnet's nationwide network. In addition, ESnet provides a high-speed network serving tens of thousands of the DOE's scientists and collaborators worldwide…Basketball franchise the Boston Celtics is using Comcast Business Class Ethernet and Comcast Business Class PRI Trunks for data and voice services. The Comcast Ethernet service will be used to download and transfer bandwidth-intensive video files and images, and to integrate communications between the organization's administrative office in Boston and its practice facility in Waltham, Mass. The Comcast data and voice services will support coaches, scouts and trainers. Previously, the organization had separate phone systems at each site and used a T3 line from another provider.