Sign up for The Skinny from CableFAX - Free Weekly Eletter
Awards --
Call for Entries & Events:

CableMania with Cablefax & AXS TV - April 30
RSVP Today!

Call for Nominations - Top Operators
Nomination Deadline: May 2
Enter Now!

CableFAX's Digital & Tech Summit: May 21
Yale Club | NYC
Register Now!

Call for Entries - Program Awards
Entry Deadline: June 20
Enter Today!

Complete List of Events
Webinars:

Participation TV 2.0: Turning Audience Involvement Into Profit
May 7
Register Now!

Monetizing Social TV: New Tools and Tactics for Success
March 25
On-Demand

---
---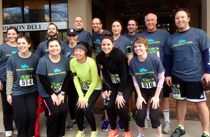 CABLE SHAPES UP! Members of CableFit #teamplatform at NCTA get ready to run a St. Patrick's Day 8K road race, spanning the U.S. Capitol grounds and National Mall on March 9, (back row, l. to r.): Julie Hance, Ethan Buch, Frank Gallagher, Kristin Buch, Steven Morris, Lisa Hamilton, Scot Donaldson, Rob Stoddard, Rick Stoddard; (front row, l. to r.): Kelly Allers, Kat Stewart, Esther Song, Carleigh Blewett, Lisa Otto. NCTA's team finished 11th in a field of 54.







December 12, 2012

Deals Of The Day 12/12/12

Infinera completed its DTN Platform 100 Gigabit Ethernet (GbE) services deployment on the Long Island MAN portion of the U.S. Department of Energy's (DOE) Energy Sciences Network (ESnet). Leveraging ESnet's existing Infinera Digital Optical Network, ESnet will offer 100 GbE services from DOE's Brookhaven National Laboratory to data centers in Manhattan and back onto ESnet's nationwide network. In addition, ESnet provides a high-speed network serving tens of thousands of the DOE's scientists and collaborators worldwide…Basketball franchise the Boston Celtics is using Comcast Business Class Ethernet and Comcast Business Class PRI Trunks for data and voice services. The Comcast Ethernet service will be used to download and transfer bandwidth-intensive video files and images, and to integrate communications between the organization's administrative office in Boston and its practice facility in Waltham, Mass. The Comcast data and voice services will support coaches, scouts and trainers. Previously, the organization had separate phone systems at each site and used a T3 line from another provider.