Sign up for The Skinny from CableFAX - Free Weekly Eletter
Awards --
Call for Entries & Events:

CableMania with Cablefax & AXS TV - April 30
RSVP Today!

Call for Nominations - Top Operators
Nomination Deadline: May 2
Enter Now!

CableFAX's Digital & Tech Summit: May 21
Yale Club | NYC
Register Now!

Call for Entries - Program Awards
Entry Deadline: June 20
Enter Today!

Complete List of Events
Webinars:

Participation TV 2.0: Turning Audience Involvement Into Profit
May 7
Register Now!

Monetizing Social TV: New Tools and Tactics for Success
March 25
On-Demand

---
---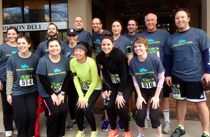 CABLE SHAPES UP! Members of CableFit #teamplatform at NCTA get ready to run a St. Patrick's Day 8K road race, spanning the U.S. Capitol grounds and National Mall on March 9, (back row, l. to r.): Julie Hance, Ethan Buch, Frank Gallagher, Kristin Buch, Steven Morris, Lisa Hamilton, Scot Donaldson, Rob Stoddard, Rick Stoddard; (front row, l. to r.): Kelly Allers, Kat Stewart, Esther Song, Carleigh Blewett, Lisa Otto. NCTA's team finished 11th in a field of 54.







December 6, 2012

Deals Of The Day 12/06/12

Kajeet Inc., which bills itself as the only pay-as-you-go wireless service that puts kids first, today announced a wholesale agreement with 4G mobile broadband provider Clearwire Corporation that will enable Kajeet to market mobile broadband service directly to kids using Clearwire's 4G network. "Kajeet's 4G service will help keep young people connected to friends, family, school and the other social, educational and community services that they engage with every day," the Washington State-based operator says. "Products focused on the youth market will also give parents the tools necessary to oversee their children's Internet use and open new opportunities for educators to bring wireless into the classroom"...Emulex plans to buy New Zealand-based network-performance-management company Endace for approximately $130 million. The network-performance-management space adds an estimated $1.7 billion in new market opportunity and nearly doubles Emulex's combined total addressable market (TAM) to $3.2 billion, the buyer notes. "With the addition of Endace, [we] will be the only company to provide connectivity I/O assets at 10Gb and beyond, and the visibility solutions for network monitoring at those speeds for true end-to-end connectivity, monitoring and management," Emulex says. "This will enable IT managers and service providers to more accurately identify issues and quickly resolve them for optimal application delivery, security and data storage"…Intel Corporation upgraded its membership in the Multimedia over Coax Alliance (MoCA) to being a "Promoter" member, and Jim Crammond, CTO/Gateway Solutions within Intel's Service Provider Division, will represent Intel on MoCA's board. Intel had been a "Contributor" member…Aerohive Networks, a developer of controller-less Wi-Fi and cloud-enabled enterprise networking, is partnering with iPass Inc. Managed Network Services in a deal that enables them to deliver a managed, secure Wi-Fi solution for distributed enterprise and venue owners. Aerohive's Cloud Service Platform, with its public and private cloud technology, will allow iPass to deploy and manage enterprise WLANs without servers or controllers at every customer location.