Sign up for The Skinny from CableFAX - Free Weekly Eletter
Awards --
Call for Entries & Events:

CableFAX Most Powerful Women & Most Influential Minorities in Cable
Deadline: May 17
Free to Nominate

CableFAX Program Awards
Call for Entries: June 21
Enter today!

CableFAXIES & Sales Executive of the Year Awards Breakfast
June 24
Register today!

Complete List of Events

Webinars:

Vine, Viggle, GetGlue:
Leveraging the Newest Social Media Apps to Drive Engagement and Brand Awareness
On-Demand

Capitalizing on Cloud Management and Navigation

Video On Demand Next Practices: Capitalizing on the Latest Innovations
On Demand

Killer Cable Apps: Using Online Games and Apps to Drive Consumer Engagement
On Demand


---
---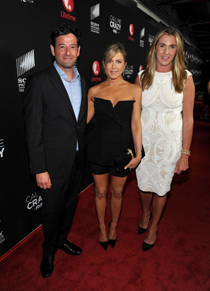 CALL ME CRAZY. On April 16, 2013, Lifetime and Sony Pictures Television held a premiere event for the Lifetime Original Movie "CALL Me Crazy: A Five Film" at the Pacific Design Center in Los Angeles. L to R: Rob Sharenow, evp, Programming, Lifetime Networks; Jennifer Aniston, Executive Producer of "Call Me Crazy"; and Nancy Dubuc, pres, Entertainment and Media, A+E Nets. Debuts April 20, 8pm. Photo by John Shearer/Invision for Lifetime/AP Images.





December 5, 2012

Deals Of The Day 12/05/12

Major enhancements to Alvarion's Partner Program & Portal including new partnership options, online certifications, incentives, deployment modulation tools and more, all designed to provide a wide range of business development opportunities and resources to deliver a distinct sales advantage. Additionally, Alvarion is launching its Expert Partner program, "designed for highly specialized system integrators that demonstrate expertise in deploying complex wireless broadband networks in specific vertical markets. The program will facilitate a market place allowing unique information sharing between non-competing segment specific partners worldwide to break into new markets more effectively," the company says. Finally, Alvarion unveiled a consultant program that offers consultants insider information on products, solution and tools without requiring any commercial commitment…Atlanta-based Octoshape, which provides cloud-based streaming technology, worked with Juniper Networks to develop an integrated technology showcase "to provide a foundation for broadband TV with the scale, quality and cost efficiency of broadcast TV," the two say. The showcase is being hosted from Juniper Networks' N.J. -based OpenLab, the Junos Center for Innovation, which facilitates a collaborative environment for Juniper's customers, partners and academia to learn about and develop new network integrated software applications. The showcase integrates Octoshape's Infinite HD-M Federated Multicast platform with Juniper's MX Series 3D Universal Edge Routers for both native multicast and automatic multicast tunneling (AMT). The HD-M solution for high-def Internet video has been in production since April, and it now uses the first commercially available AMT relay from Juniper..Level 3 Communications Inc. inked a deal to serve as the primary streaming partner for TED, a global nonprofit devoted to "ideas worth spreading." TED plans to use Level 3's scalable, global media delivery platform to host its Web site and its more than 1,400 free videos, known as "TED Talks"…CenturyLink Inc. has deployed the Infinera DTN-X platform, featuring 500 Gb/s long-haul super-channels, on its nationwide fiber-optic backbone to enhance its next-gen transport network and to support critical video, mobile and cloud IP services. It also is capable of delivering as much as 100 Gigabit Ethernet services (GbE) to the company's data centers and customer facilities. In other CenturyLink news, the operator selected Amdocs for an operational support systems consolidation project.