Sign up for The Skinny from CableFAX - Free Weekly Eletter
Awards --
Call for Entries & Events:

CableFAX Most Powerful Women & Most Influential Minorities in Cable
Deadline: May 17
Free to Nominate

CableFAX Program Awards
Call for Entries: June 21
Enter today!

CableFAXIES & Sales Executive of the Year Awards Breakfast
June 24
Register today!

Complete List of Events

Webinars:

Vine, Viggle, GetGlue:
Leveraging the Newest Social Media Apps to Drive Engagement and Brand Awareness
On-Demand

Capitalizing on Cloud Management and Navigation

Video On Demand Next Practices: Capitalizing on the Latest Innovations
On Demand

Killer Cable Apps: Using Online Games and Apps to Drive Consumer Engagement
On Demand


---
---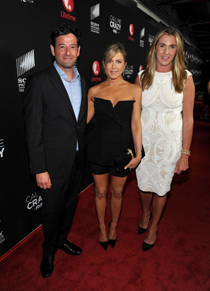 CALL ME CRAZY. On April 16, 2013, Lifetime and Sony Pictures Television held a premiere event for the Lifetime Original Movie "CALL Me Crazy: A Five Film" at the Pacific Design Center in Los Angeles. L to R: Rob Sharenow, evp, Programming, Lifetime Networks; Jennifer Aniston, Executive Producer of "Call Me Crazy"; and Nancy Dubuc, pres, Entertainment and Media, A+E Nets. Debuts April 20, 8pm. Photo by John Shearer/Invision for Lifetime/AP Images.





December 3, 2012

Deals Of The Day 12/03/12

Marlin Equity Partners soon will be the new owner of Nokia Siemens Networks' Optical Networks business unit, resulting, they say, in the unit "being established as an independent company with the goal of becoming a leading provider in the optical market." The new optical company will be headquartered in Munich, with operations around the world; it will be led by its existing management team, with Herbert Merz nominated as CEO. Nearly 2,000 employees – mainly in Germany, Portugal and China – from the optical business unit and related functions are expected to transfer to the new company along with related existing customer contracts. The sale should close during 1Q13. Comments Dana Cooperson, leader of Ovum's Network Infrastructure Telecom practice, "The details of the transaction were not released, so it is difficult to gauge Marlin's commitment to turning the optical business around. Competition in the market is keen; margins are under constant pressure. Competitors will take advantage of this ownership change and related confusion to gain any advantage in NSN's accounts. Marlin's goal may be to sell the optical business to another vendor, for example, Juniper Networks"…Va.-based WeFi deployed its WeANDSF Wi-Fi network management solution with Time Warner Cable's TWC WiFi service, completing the launch of a multiyear agreement. Comments Zur Feldman, CEO at WeFi, "TWC recognized the importance of our 'always-best-connected' network management technology for their end-users." Adds Mike Roudi, TWC's senior vice president/ Corporate Development, "WeFi analyzes massive amounts of real-time data on Wi-Fi hotspot locations and conditions and gives TWC real-time feedback on the quality of the Wi-Fi networks. This data is crucial for TWC WiFi to deliver the best possible mobile Internet service"…Level 3 Communications, Inc. and tw telecom inc. crafted a long-term, settlement-free, Internet traffic exchange agreement, commonly referred to as a peering agreement in the Internet industry. The deal allows the two ISPs to exchange data, enabling Internet customers on one network to send and receive Internet content with customers on the other network more efficiently and cost-effectively. The Level 3/tw telecom peering agreement measures both the volume of traffic exchanged and the distance over which that traffic is carried by each network; to keep the relationship equitable, both networks carry approximately the same "bit miles" of data to help ensure a balanced cost burden across each network…Tower owner Crown Castle International Corp. wrapped up its previously announced transaction to acquire exclusive rights to approximately 7,100 T-Mobile USA towers.