Sign up for The Skinny from CableFAX - Free Weekly Eletter
Awards --
Call for Entries & Events:

CableFAX Most Powerful Women & Most Influential Minorities in Cable
Deadline: May 17
Free to Nominate

CableFAX Program Awards
Call for Entries: June 21
Enter today!

CableFAXIES & Sales Executive of the Year Awards Breakfast
June 24
Register today!

Complete List of Events

Webinars:

Vine, Viggle, GetGlue:
Leveraging the Newest Social Media Apps to Drive Engagement and Brand Awareness
On-Demand

Capitalizing on Cloud Management and Navigation

Video On Demand Next Practices: Capitalizing on the Latest Innovations
On Demand

Killer Cable Apps: Using Online Games and Apps to Drive Consumer Engagement
On Demand


---
---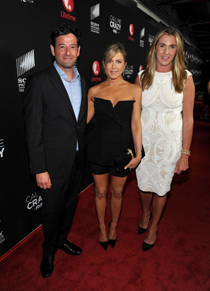 CALL ME CRAZY. On April 16, 2013, Lifetime and Sony Pictures Television held a premiere event for the Lifetime Original Movie "CALL Me Crazy: A Five Film" at the Pacific Design Center in Los Angeles. L to R: Rob Sharenow, evp, Programming, Lifetime Networks; Jennifer Aniston, Executive Producer of "Call Me Crazy"; and Nancy Dubuc, pres, Entertainment and Media, A+E Nets. Debuts April 20, 8pm. Photo by John Shearer/Invision for Lifetime/AP Images.





November 30, 2012

Deals Of The Day 11/30/12

Sprint tapped Airbiquity as a technology provider for its Sprint Velocity global connected vehicle solution, with the operator slated to use the Airbiquity Choreo service delivery platform within the solution for vehicle manufacturers. "Sprint is leading the way in helping automakers more easily and affordably provide connected services in their autos and passenger trucks, and we are excited to expand our capability through pivotal relationships with market leaders like Airbiquity," comments Wayne Ward, Sprint's vice president/Emerging Solutions. "Airbiquity's Choreo is a valuable addition to our Sprint Velocity ecosystem, providing a potent technology option for the integration of in-vehicle communication systems." The partners also are looking at additional market segments where they might collaborate, including other transportation and medical markets. In other Sprint news, the carrier and its pending majority shareholder Softbank (click here for more information) have extended the deadline for filing the Registration Statement on Form S-4 from today to Dec. 21; the proxy statement that will be included in the Registration Statement will be sent only to Sprint shareholders…Wideband RFIC vendor Aviacomm Inc. and Toshiba Corporation are working together to develop and integrate Aviacomm's Smart Analog Solution technology into the Toshiba Remote Base Station Product Line. According to Toshiba, its ROF Remote BTS approach "allows consolidation of the core network processing into a central location, while delivering the radio signal over fiber to remote digital radio heads. With this approach installation of additional network radios can be accomplished with minimal site preparation and a short amount of time." The ARF performance and wideband programmability can be sampled today in the ARF1010EX Evaluation Kit. For more information, email Info@aviacomm.com.