Sign up for The Skinny from CableFAX - Free Weekly Eletter
Awards --
Call for Entries & Events:

CableMania with Cablefax & AXS TV - April 30
RSVP Today!

Call for Nominations - Top Operators
Nomination Deadline: May 2
Enter Now!

CableFAX's Digital & Tech Summit: May 21
Yale Club | NYC
Register Now!

Call for Entries - Program Awards
Entry Deadline: June 20
Enter Today!

Complete List of Events
Webinars:

Participation TV 2.0: Turning Audience Involvement Into Profit
May 7
Register Now!

Monetizing Social TV: New Tools and Tactics for Success
March 25
On-Demand

---
---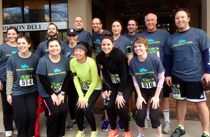 CABLE SHAPES UP! Members of CableFit #teamplatform at NCTA get ready to run a St. Patrick's Day 8K road race, spanning the U.S. Capitol grounds and National Mall on March 9, (back row, l. to r.): Julie Hance, Ethan Buch, Frank Gallagher, Kristin Buch, Steven Morris, Lisa Hamilton, Scot Donaldson, Rob Stoddard, Rick Stoddard; (front row, l. to r.): Kelly Allers, Kat Stewart, Esther Song, Carleigh Blewett, Lisa Otto. NCTA's team finished 11th in a field of 54.







November 28, 2012

Deals Of The Day 11/28/12

PC Telcom in Colorado now is using Entone's FusionTV to offer an enhanced pay-TV service to offer live HDTV and cloud services to its broadband subscribers "without the costs and hassles associated with content acquisition," Entone says. PC Telcom, a Radio Shack authorized retail dealer, is launching the holiday season with a FusionTV bundle offer. Notes Vince Kropp, GM/CEO at PC Telcom, "By bundling our existing broadband service with OTT, this takes the market appeal of our broadband service to a whole new level. Our customers get a cost-effective, personalized viewing experience that they can't get from satellite or traditional TV services — further strengthening the relationship with our subscribers"…NAGRA, the digital-TV division of the Kudelski Group, and research group Kantar Media will collaborate on subscriber behavior, providing operators with data garnered from in-home devices while helping to ensure viewer privacy. The service will be available pre-integrated with OpenTV 5, NAGRA's newest media-convergence platform. Comments Samir Mehta, senior vice president/DTV Solutions at NAGRA, "Together, we're making it possible for them to capture critical subscriber-generated information, such as PVR and advertising interactions, and taking a major step toward enriching and personalizing the television experience"…InfoVista just concluded its first acquisition, RAN and backhaul network planning and optimization solutions provider Mentum, which serves more than 100 LTE customers. The deal also strengthens InfoVista's market reach and its ability to offer a path to self-organizing networks. No financial details were disclosed.