CableFAX Contest - Describe the cable industry in 5 words for a chance to win a $50 Amazon gift card!
Sign up for The Skinny from CableFAX - Free Weekly Eletter
Awards --
Call for Entries & Events:

CableFAX's Most Powerful Women in Cable Breakfast
November 21 - NYC
Photos from the Event

CableFAX's Best of the Web & Digital Marketing Awards
Deadline: December 6
Enter Today!

Webinars:

Establish Cable PR and Brand Leadership with Content Marketing
December 17
Register Now!

Selling TV Everywhere: Marketing and PR Strategies to Drive TVE Awareness
On-Demand

---
---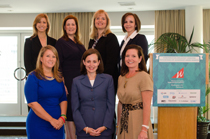 A TOUCH OF LEADERSHIP: At the PowerBrokers Breakfast of the WICT Washington, DC/Baltimore Chapter in Washington, DC on October 29, Touchstones of Leadership Award Honorees, were (top row, L-R) Discovery Comm's Catherine Frymark, Scripps Nets' Suzanne Underwald, Comcast's Samantha Callahan, TWC's Becky Bobzien-Simms, (bottom row, L-R) Travel Channel's Meghan Rodgers, the FCC's Michelle Carey & NBCU's Meredith Attwell Baker.






November 27, 2012

Deals Of The Day 11/27/12

San Diego-based VelaTel Global Communications, which deploys and operates wireless broadband and telecom networks worldwide, will spend some $5.8 million to acquire 100 percent of the capital stock of mobile virtual network operator (MVNO) China Motion Telecom (HK) Limited. What VelaTel gets is access to such mainland China state-owned companies NGSN and China Aerospace…American Tower Corporation now owns the 93rd and 97th floors plus the rooftop of the John Hancock Center in Chicago along with the rights to the existing telecom leases associated with the property. The deal lets the company enter the Chicago-area broadcast market while boosting its rooftop portfolio in the region. The agreement includes more than 34,000 square feet of space for broadcast and telecommunications equipment, the rooftop and two broadcast masts.