CableFAX Contest - Describe the cable industry in 5 words for a chance to win a $50 Amazon gift card!
Sign up for The Skinny from CableFAX - Free Weekly Eletter
Awards --
Call for Entries & Events:

CableFAX's Most Powerful Women in Cable Breakfast
November 21 - NYC
Photos from the Event

CableFAX's Best of the Web & Digital Marketing Awards
Deadline: December 6
Enter Today!

Webinars:

Establish Cable PR and Brand Leadership with Content Marketing
December 17
Register Now!

Selling TV Everywhere: Marketing and PR Strategies to Drive TVE Awareness
On-Demand

---
---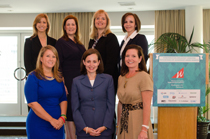 A TOUCH OF LEADERSHIP: At the PowerBrokers Breakfast of the WICT Washington, DC/Baltimore Chapter in Washington, DC on October 29, Touchstones of Leadership Award Honorees, were (top row, L-R) Discovery Comm's Catherine Frymark, Scripps Nets' Suzanne Underwald, Comcast's Samantha Callahan, TWC's Becky Bobzien-Simms, (bottom row, L-R) Travel Channel's Meghan Rodgers, the FCC's Michelle Carey & NBCU's Meredith Attwell Baker.






November 26, 2012

Deals Of The Day 11/26/12

Bright House Networks is buying Telovations, a Tampa-based cloud provider that delivers hosted voice solutions, including PBX and managed SIP trunking; no financial details were disclosed. Following the close of the purchase, estimated within 60 days, the Telovations team will report into Craig Cowden, senior vice president/Network Engineering & Operations and Enterprise Solutions at Bright House…Canada's Rogers Communications and SamKnows Ltd., an independent provider of broadband performance testing, will conduct ongoing measurement of broadband Internet speed, based on customer data collected in the home. Working with SamKnows, Rogers will be able to measure actual customers' Hi Speed Internet speeds on a consistent basis; the testing is complementary to existing testing the company conducts. Using a custom hardware device called a "whitebox" that plugs-in to a customer's existing Internet connection, SamKnows will measure Internet upload and download performance as well as other key performance indicators, including latency.