Read about CableFAX TECH: Our New Multiplatform Initiative

Sign up for The Skinny from CableFAX - Free Weekly Eletter
Awards --
Call for Entries & Events:

CableFAX Leadership Roundtable
June 10

Cable Tech Breakfast
June 12

CableFAX Program Awards
Call for Entries: June 21
Enter today!

CableFAXIES & Sales Executive of the Year Awards Breakfast
June 24
Register today!

Complete List of Events
Webinars:

Vine, Viggle, GetGlue:
Leveraging the Newest Social Media Apps to Drive Engagement and Brand Awareness
On-Demand

Capitalizing on Cloud Management and Navigation
Video On Demand Next Practices: Capitalizing on the Latest Innovations
On Demand
Killer Cable Apps: Using Online Games and Apps to Drive Consumer Engagement
On Demand
---
---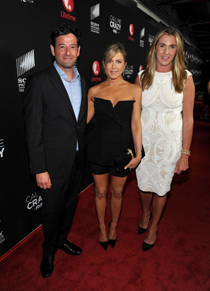 CALL ME CRAZY. On April 16, 2013, Lifetime and Sony Pictures Television held a premiere event for the Lifetime Original Movie "CALL Me Crazy: A Five Film" at the Pacific Design Center in Los Angeles. L to R: Rob Sharenow, evp, Programming, Lifetime Networks; Jennifer Aniston, Executive Producer of "Call Me Crazy"; and Nancy Dubuc, pres, Entertainment and Media, A+E Nets. Debuts April 20, 8pm. Photo by John Shearer/Invision for Lifetime/AP Images.





November 14, 2012

Deals Of The Day 11/14/12

Charter Communications tapped logistics and repair services provider Contec as the preferred provider of set-top box (STB) testing and repair across Charter's service territory. This expanded relationship calls for Charter to optimize management of its STB fleet using Contec's QuickTest automated testing stations, and its Web-based data and support resources. Using Contec gear, Charter says it will be able to identify and proactively address performance trends, and to service and redeploy units requiring repair within Contec's repair facility…Turner Broadcasting System Inc. plans to use the Kayak dynamic workflow platform from Digital Rapids to power Turner's media processing operations for its current and future multi-screen video initiatives. "We have developed our own custom Kayak components, enabling seamless integration with Turner's existing business systems," notes Brooks Tobey, senior vice president/Sales Solutions and Multi-Screen Development & Delivery at Turner, "and we are pleased to partner with Digital Rapids to further our digital encoding initiatives"…The City of Macon (Ga.) awarded Harris Corporation a $7.6 million contract to deploy a three-site 800 MHz Project 25 (P25) simulcast system designed for the city's public-safety personnel. The solution includes nearly 700 Harris Unity XG-100 full-spectrum mobile and portable multiband radios that operate on VHF, UHF, 700 MHz and 800 MHz frequency bands. In addition, the Harris P25 simulcast system will include an OpenSky overlay and Wi-Fi hot spots for a multitier mobile-data solution that enables constant data connectivity via OpenSky modems installed in select city vehicles…Clearleap, a provider of IP-based multiscreen video solutions, will power Scripps Networks Interactive as it prepares archived and current TV programs for distribution to TV Everywhere and video-on-demand platforms. Scripps also plans to use Clearleap's all-IP terrestrial publishing and distribution network to send the content to its traditional and online video affiliates.