CableFAX Contest - Describe the cable industry in 5 words for a chance to win a $50 Amazon gift card!
Sign up for The Skinny from CableFAX - Free Weekly Eletter
Awards --
Call for Entries & Events:

CableFAX's Most Powerful Women in Cable Breakfast
November 21 - NYC
Photos from the Event

CableFAX's Best of the Web & Digital Marketing Awards
Deadline: December 6
Enter Today!

Webinars:

Establish Cable PR and Brand Leadership with Content Marketing
December 17
Register Now!

Selling TV Everywhere: Marketing and PR Strategies to Drive TVE Awareness
On-Demand

---
---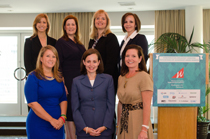 A TOUCH OF LEADERSHIP: At the PowerBrokers Breakfast of the WICT Washington, DC/Baltimore Chapter in Washington, DC on October 29, Touchstones of Leadership Award Honorees, were (top row, L-R) Discovery Comm's Catherine Frymark, Scripps Nets' Suzanne Underwald, Comcast's Samantha Callahan, TWC's Becky Bobzien-Simms, (bottom row, L-R) Travel Channel's Meghan Rodgers, the FCC's Michelle Carey & NBCU's Meredith Attwell Baker.






November 14, 2012

Deals Of The Day 11/14/12

Charter Communications tapped logistics and repair services provider Contec as the preferred provider of set-top box (STB) testing and repair across Charter's service territory. This expanded relationship calls for Charter to optimize management of its STB fleet using Contec's QuickTest automated testing stations, and its Web-based data and support resources. Using Contec gear, Charter says it will be able to identify and proactively address performance trends, and to service and redeploy units requiring repair within Contec's repair facility…Turner Broadcasting System Inc. plans to use the Kayak dynamic workflow platform from Digital Rapids to power Turner's media processing operations for its current and future multi-screen video initiatives. "We have developed our own custom Kayak components, enabling seamless integration with Turner's existing business systems," notes Brooks Tobey, senior vice president/Sales Solutions and Multi-Screen Development & Delivery at Turner, "and we are pleased to partner with Digital Rapids to further our digital encoding initiatives"…The City of Macon (Ga.) awarded Harris Corporation a $7.6 million contract to deploy a three-site 800 MHz Project 25 (P25) simulcast system designed for the city's public-safety personnel. The solution includes nearly 700 Harris Unity XG-100 full-spectrum mobile and portable multiband radios that operate on VHF, UHF, 700 MHz and 800 MHz frequency bands. In addition, the Harris P25 simulcast system will include an OpenSky overlay and Wi-Fi hot spots for a multitier mobile-data solution that enables constant data connectivity via OpenSky modems installed in select city vehicles…Clearleap, a provider of IP-based multiscreen video solutions, will power Scripps Networks Interactive as it prepares archived and current TV programs for distribution to TV Everywhere and video-on-demand platforms. Scripps also plans to use Clearleap's all-IP terrestrial publishing and distribution network to send the content to its traditional and online video affiliates.