Sign up for The Skinny from CableFAX - Free Weekly Eletter
Awards --
Call for Entries & Events:

CableMania: A Magical Mystery Tour with Cablefax & AXS TV - April 30
RSVP Today!

CableFAX Tech Breakfast & Roundtable - May 1
Complimentary Registration!

Call for Nominations - Top Operators
Nomination Deadline: May 2
Enter Now!

CableFAX's Digital & Tech Summit: May 21
Yale Club | NYC
Register Now!

Complete List of Events
Webinars:

Participation TV 2.0: Turning Audience Involvement Into Profit
May 7
Register Now!

Monetizing Social TV: New Tools and Tactics for Success
March 25
On-Demand

---
---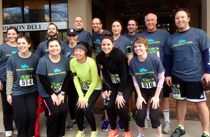 CABLE SHAPES UP! Members of CableFit #teamplatform at NCTA get ready to run a St. Patrick's Day 8K road race, spanning the U.S. Capitol grounds and National Mall on March 9, (back row, l. to r.): Julie Hance, Ethan Buch, Frank Gallagher, Kristin Buch, Steven Morris, Lisa Hamilton, Scot Donaldson, Rob Stoddard, Rick Stoddard; (front row, l. to r.): Kelly Allers, Kat Stewart, Esther Song, Carleigh Blewett, Lisa Otto. NCTA's team finished 11th in a field of 54.







November 13, 2012

Deals Of The Day 11/13/12

The Pacific Wave international network peering facility that connects research and education (R&E) networks in 40 countries in the Pacific Rim and beyond recently was upgraded with Ciena's 6500 Packet-Optical Platform, equipped with WaveLogic coherent optical processors. As a result, this deployment will provide 100 Gb/s networking capabilities to Pacific Wave's R&E network infrastructure across the western coast of the United States, from Los Angeles to Seattle. In choosing Ciena for this deployment, the Corporation for Education Network Initiatives and the Pacific Northwest Gigapop (that together operate Pacific Wave as a joint project) are helping to ensure that Pacific Wave is consistent with the recent Internet2 and the US Department of Energy 100G backbone upgrades…Cloud-based enterprise wireless-data provider Telespree Communications will provide real-time 4G data usage monitoring services to 4G operator Clearwire Corporation. Clearwire says it will use Telespree's on-device service enablement, active session monitoring, real-time charging, and proactive alerting services to offer its mobile virtual network operator (MVNO) wholesale customers a larger portfolio of data devices. In addition, Telespree will provide rating services that support such data offerings as family or share plans for use across multiple devices, pay-for-use plans that help avoid bill shock and tiered plans that enable different consumption thresholds at different prices. As such, MVNOs will be able to meter 4G mobile data services, track time and data usage activity, and – if needed – cut off and redirect data sessions in real time to a self-service portal for subscribers to purchase additional sessions or to receive new offers…Olympusat Telecom inked a strategic partnership with KIT digital Inc. and Akamai Technologies Inc. for the delivery of secure, high-performing user experiences to any device. Olympusat says it will offer its video, television and rich media centric customers the scalability, reliability and security in addition to helping to reduce costs by eliminating investment and maintenance on infrastructure. With these partnerships, the company will be able to offer a customized, cloud-based video management solution to its customers that enhances the streaming video experience for their end users, while providing unique content-management features. Olympusat Telecom is a strategic business division of Olympusat Holdings Inc., a developer and distributor of independent Hispanic, specialty and faith & family TV networks.