Sign up for The Skinny from CableFAX - Free Weekly Eletter
Awards --
Call for Entries & Events:

CableMania with Cablefax & AXS TV - April 30
RSVP Today!

Call for Nominations - Top Operators
Nomination Deadline: May 2
Enter Now!

CableFAX's Digital & Tech Summit: May 21
Yale Club | NYC
Register Now!

Call for Entries - Program Awards
Entry Deadline: June 20
Enter Today!

Complete List of Events
Webinars:

Participation TV 2.0: Turning Audience Involvement Into Profit
May 7
Register Now!

Monetizing Social TV: New Tools and Tactics for Success
March 25
On-Demand

---
---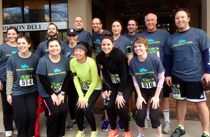 CABLE SHAPES UP! Members of CableFit #teamplatform at NCTA get ready to run a St. Patrick's Day 8K road race, spanning the U.S. Capitol grounds and National Mall on March 9, (back row, l. to r.): Julie Hance, Ethan Buch, Frank Gallagher, Kristin Buch, Steven Morris, Lisa Hamilton, Scot Donaldson, Rob Stoddard, Rick Stoddard; (front row, l. to r.): Kelly Allers, Kat Stewart, Esther Song, Carleigh Blewett, Lisa Otto. NCTA's team finished 11th in a field of 54.







November 12, 2012

Deals Of The Day 11/12/12

Level 3 Communications Inc. signed an agreement with Tulane University in New Orleans to provide network services in support of the university's business continuity infrastructure. The deal includes Level 3's Dedicated Internet Access (DIA) and Ethernet Private Line (EPL) services…Telecast Fiber Systems will be formally integrated into Miranda Technologies as a product brand as of Jan. 1, 2013, identified as Miranda Technologies' Telecast Fiber Systems. The integration of the Telecast solutions includes fiber-optic camera-to-control connectivity and remote control capabilities melded with the Miranda portfolio of routing, infrastructure and monitoring solution…Liberty Global Inc. signed the final papers regarding a previously announced agreement with investment funds affiliated with Searchlight Capital Partners LP. Pursuant to this deal, a subsidiary of LGI contributed its 100 percent interest in Liberty Cablevision of Puerto Rico LLC and Searchlight contributed cash to Leo Cable LP, an entity that, in turn, used the Searchlight cash to acquire 100 percent of the equity of San Juan Cable LLC, doing business as OneLink Communications. Leo Cable LP ultimately is 60-percent-owned by LGI and 40-percent-owned by Searchlight. LGI will have a controlling financial interest in, and will consolidate, Leo Cable LP. The newly formed entity represents the largest cable operator on the island with homes passed of approximately 700,000 and revenue generating units approaching 500,000…Transit Wireless is installing Westell Technologies' eSmartAccess ESP8100 Series of managed Ethernet switches in the wireless communications network Transit is building for the New York City Transit Authority (NYCTA). Transit Wireless owns and operates the subway system wireless network and is in the early stages of rolling out services to all 277 underground stations in the NYCTA system. For this project, Westell developed a new model in the ESP8100 series that includes a unique configuration of ports designed specifically to meet Transit Wireless' needs for this project. The switches provide network connectivity and power via Power over Ethernet (PoE) to the wireless radio equipment and IP cameras. The switch combines multiple functions – including telemetry for site monitoring, power and network connectivity – into a single unit. Westell also is providing full-system integration for the wireless access point cabinets.