Sign up for The Skinny from CableFAX - Free Weekly Eletter
Awards --
Call for Entries & Events:

CableMania with Cablefax & AXS TV - April 30
RSVP Today!

Call for Nominations - Top Operators
Nomination Deadline: May 2
Enter Now!

CableFAX's Digital & Tech Summit: May 21
Yale Club | NYC
Register Now!

Call for Entries - Program Awards
Entry Deadline: June 20
Enter Today!

Complete List of Events
Webinars:

Participation TV 2.0: Turning Audience Involvement Into Profit
May 7
Register Now!

Monetizing Social TV: New Tools and Tactics for Success
March 25
On-Demand

---
---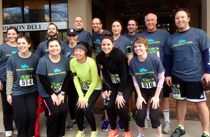 CABLE SHAPES UP! Members of CableFit #teamplatform at NCTA get ready to run a St. Patrick's Day 8K road race, spanning the U.S. Capitol grounds and National Mall on March 9, (back row, l. to r.): Julie Hance, Ethan Buch, Frank Gallagher, Kristin Buch, Steven Morris, Lisa Hamilton, Scot Donaldson, Rob Stoddard, Rick Stoddard; (front row, l. to r.): Kelly Allers, Kat Stewart, Esther Song, Carleigh Blewett, Lisa Otto. NCTA's team finished 11th in a field of 54.







November 9, 2012

Deals Of The Day 11/09/12

Once bolstered by a series of mega-deals topping $10 billion, technology deal values declined in the third quarter and volume remained flat, says PwC. Smaller IP deals and acquisitions continued, while larger technology players remained on the acquisition sidelines, focusing on their internal operations after substantial consolidation in preceding quarters. During 3Q12, there were only 59 deals closed, only one more than in 2Q12. While cumulative quarterly deal values have been at or exceeded $25 billion each quarter during the past two years, the total deal value for 3Q12 dropped to $20.5 billion, the result of fewer large acquisitions. Deal activity in 3Q11 totaled 78 transactions with a cumulative value of $26.6 billion. According to PwC, private equity continues to be an active player in the technology market, with more than three deals in excess of $1 billion announced during the quarter. Furthermore, technology companies continue to seek alternative investments through joint ventures and smaller stakes to access key technologies. Notes Rob Fisher, PwC's U.S. technology industry transaction services leader, "Technology majors are vying to become the dominant ecosystem for both the enterprise and consumers, driving smaller, IP-driven deals in the sector. With more technology businesses currently in evaluation mode and on the sidelines for acquisitions, we anticipate a potential resurgence of deal activity in the first part of 2013, especially as companies seek out the next wave of innovative technologies to build and buy."