Sign up for The Skinny from CableFAX - Free Weekly Eletter
Awards --
Call for Entries & Events:

CableFAX Most Powerful Women & Most Influential Minorities in Cable
Deadline: May 17
Free to Nominate

CableFAX Program Awards
Call for Entries: June 21
Enter today!

CableFAXIES & Sales Executive of the Year Awards Breakfast
June 24
Register today!

Complete List of Events

Webinars:

Vine, Viggle, GetGlue:
Leveraging the Newest Social Media Apps to Drive Engagement and Brand Awareness
On-Demand

Capitalizing on Cloud Management and Navigation

Video On Demand Next Practices: Capitalizing on the Latest Innovations
On Demand

Killer Cable Apps: Using Online Games and Apps to Drive Consumer Engagement
On Demand


---
---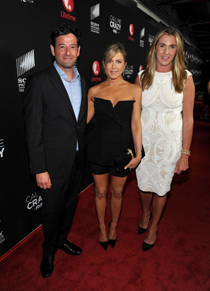 CALL ME CRAZY. On April 16, 2013, Lifetime and Sony Pictures Television held a premiere event for the Lifetime Original Movie "CALL Me Crazy: A Five Film" at the Pacific Design Center in Los Angeles. L to R: Rob Sharenow, evp, Programming, Lifetime Networks; Jennifer Aniston, Executive Producer of "Call Me Crazy"; and Nancy Dubuc, pres, Entertainment and Media, A+E Nets. Debuts April 20, 8pm. Photo by John Shearer/Invision for Lifetime/AP Images.





July 24, 2012

Deals Of The Day 07/24/12

OpenVault, a provider of real-time usage, data, and analytics solutions for the cable industry, was named an Approved Vendor for broadband-usage data analytics and policy management by the National Cable Television Cooperative (NCTC). Notes Rich Fickle, NCTC CEO/President, "The partnership with OpenVault will be of huge benefit to our membership. Plus, the online SaaS model with quick implementation times makes it an easy, cost-effective toolset for our members"…AT&T U-verse, Frontier Communications and Comcast Xfinity TV, in agreement with NBCUniversal, revealed a multiplatform content offering for NBCU's coverage of the London 2012 Summer Olympic Games that start tomorrow. The operators will offer NBCU's Olympic content live and on-demand, and across multiple digital, mobile and tablet platforms. For the first time ever, there will 3D coverage…Mayor Mike McGinn thanked the Seattle City Council for passing legislation that will move Seattle one step further along the road to better digital infrastructure: "The Council's vote allows us to challenge the private sector to use our unused fiber to provide better service to homes and businesses." Since 1998, Seattle has been part of a partnership that has been installing and maintaining fiber optic cable to link facilities around the city; to date that network has more than 500 miles of fiber optic cable in the greater Seattle area. The legislation allows the partnership to lease the excess fiber to private third parties to provide high-speed Internet services and to increase competition…Canada's TELUS used Openet's Policy Manager in part to get its LTE-ready, strategic policy platform off the ground…Frontier Communications signed a wholesale agreement with Hughes Network Systems LLC to distribute Frontier Broadband-branded satellite-based broadband services to several hundred thousand households and small businesses in markets previously unserved or underserved by all broadband providers, including cable. Frontier Broadband will use the Hughes EchoStar XVII Satellite with Jupiter High-Throughput Technology that launched earlier this month.