CableFAX Contest - Describe the cable industry in 5 words for a chance to win a $50 Amazon gift card!
Sign up for The Skinny from CableFAX - Free Weekly Eletter
Awards --
Call for Entries & Events:

CableFAX's Most Powerful Women in Cable Breakfast
November 21 - NYC
Photos from the Event

CableFAX's Best of the Web & Digital Marketing Awards
Deadline: December 6
Enter Today!

Webinars:

Establish Cable PR and Brand Leadership with Content Marketing
December 17
Register Now!

Selling TV Everywhere: Marketing and PR Strategies to Drive TVE Awareness
On-Demand

---
---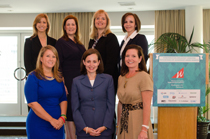 A TOUCH OF LEADERSHIP: At the PowerBrokers Breakfast of the WICT Washington, DC/Baltimore Chapter in Washington, DC on October 29, Touchstones of Leadership Award Honorees, were (top row, L-R) Discovery Comm's Catherine Frymark, Scripps Nets' Suzanne Underwald, Comcast's Samantha Callahan, TWC's Becky Bobzien-Simms, (bottom row, L-R) Travel Channel's Meghan Rodgers, the FCC's Michelle Carey & NBCU's Meredith Attwell Baker.






October 7, 2011

Canada's EastLink Measures Its Products With Scorecard

Scorecard Systems has been selected by EastLink, a Nova Scotia-based triple-play provider with more than 1,600 employees from coast to coast. EastLink will deploy Scorecard's analysis and commission calculation products.

Scorecard will provide "one version of the truth" across all departments, enabling a deeper level of understanding around customer behavior patterns, while automating the commission process.

"The Scorecard solution, allows us to better understand how we can continue to refine the customer experience in both our traditional and soon-to-be launched wireless operations," said Deborah Shaffner, President and COO EastLink, in a statement.