CableFAX Contest - Describe the cable industry in 5 words for a chance to win a $50 Amazon gift card!
Sign up for The Skinny from CableFAX - Free Weekly Eletter
Awards --
Call for Entries & Events:

CableFAX's Most Powerful Women in Cable Breakfast
November 21 - NYC
Photos from the Event

CableFAX's Best of the Web & Digital Marketing Awards
Deadline: December 6
Enter Today!

Webinars:

Establish Cable PR and Brand Leadership with Content Marketing
December 17
Register Now!

Selling TV Everywhere: Marketing and PR Strategies to Drive TVE Awareness
On-Demand

---
---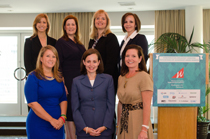 A TOUCH OF LEADERSHIP: At the PowerBrokers Breakfast of the WICT Washington, DC/Baltimore Chapter in Washington, DC on October 29, Touchstones of Leadership Award Honorees, were (top row, L-R) Discovery Comm's Catherine Frymark, Scripps Nets' Suzanne Underwald, Comcast's Samantha Callahan, TWC's Becky Bobzien-Simms, (bottom row, L-R) Travel Channel's Meghan Rodgers, the FCC's Michelle Carey & NBCU's Meredith Attwell Baker.






December 11, 2012

Call Security! 12/11/12

France-based INSIDE Secure, a developer of semiconductor and software solutions for securing transactions, content and digital identity, today unveiled its DRM Fusion for DTCP-IP, a software-based, end-to-end security solution it says helps ensure that such high-value content as high-def video remains secure and is copy protected when transmitted between PCs, tablets, smartphones, smart TVs, gaming consoles and HD projectors. The software offers the latest version of the Digital Transmission Content Protection (DTCP v1.7) standard for HD digital media. The company says it also provides all the DLNA-required advanced cryptographic security functions, including authentication, digital signature algorithms and key storage and management in accordance with standards specified by the DLNA…Independent U.K. test lab Broadband-Testing released a report on its performance validation of IT network firewall solutions from Cisco Systems, NetPilot, SonicWall and WatchGuard. Using Spirent's security solutions, the tests benchmarked the performance of the vendors' devices against such key criteria as network and application traffic performance (with and without attacks) to determine which solution was the best at providing an entry-level security product for enterprises. The test report highlights key performance differences between the firewall products and concludes there is a level of compromise involved in terms of performance when advanced functionality is enabled. This underscores the need for comprehensive testing that compares security device's real-world performance and datasheet performance. Differentiation among the four tested products appeared in security features, the variety of licensing options, differences in management GUIs and competitive pricing. To download the complete test report and to watch a related Webcast, click here.