CableFAX Contest - Describe the cable industry in 5 words for a chance to win a $50 Amazon gift card!
Sign up for The Skinny from CableFAX - Free Weekly Eletter
Awards --
Call for Entries & Events:

CableFAX's Most Powerful Women in Cable Breakfast
November 21 - NYC
Photos from the Event

CableFAX's Best of the Web & Digital Marketing Awards
Deadline: December 6
Enter Today!

Webinars:

Establish Cable PR and Brand Leadership with Content Marketing
December 17
Register Now!

Selling TV Everywhere: Marketing and PR Strategies to Drive TVE Awareness
On-Demand

---
---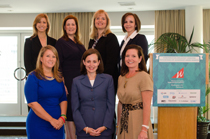 A TOUCH OF LEADERSHIP: At the PowerBrokers Breakfast of the WICT Washington, DC/Baltimore Chapter in Washington, DC on October 29, Touchstones of Leadership Award Honorees, were (top row, L-R) Discovery Comm's Catherine Frymark, Scripps Nets' Suzanne Underwald, Comcast's Samantha Callahan, TWC's Becky Bobzien-Simms, (bottom row, L-R) Travel Channel's Meghan Rodgers, the FCC's Michelle Carey & NBCU's Meredith Attwell Baker.






October 17, 2011

ActiveVideo Wins More Damages In Patent Suit Against Verizon

A judge for the United States District Court for the Eastern District of Virginia awarded supplemental damages, bringing the jury verdict on behalf of San Jose-based ActiveVideo Networks against Verizon to nearly $140 Million. 
The supplemental damages follow a jury verdict for infringement of four ActiveVideo patents on technology relating to interactive television services, such as video on demand (VOD) used by Verizon's FiOS TV.

The court found that ActiveVideo is entitled to supplemental damages in the amount of $17,422,575, prejudgment interest in the amount of $6,687,511, and post-judgment interest for Verizon's infringement of its patents commencing on August 2, 2011, the date a $115 million judgment was entered.