Sign up for The Skinny from CableFAX - Free Weekly Eletter
Awards --
Call for Entries & Events:

CableMania with Cablefax & AXS TV - April 30
RSVP Today!

Call for Nominations - Top Operators
Nomination Deadline: May 2
Enter Now!

CableFAX's Digital & Tech Summit: May 21
Yale Club | NYC
Register Now!

Call for Entries - Program Awards
Entry Deadline: June 20
Enter Today!

Complete List of Events
Webinars:

Participation TV 2.0: Turning Audience Involvement Into Profit
May 7
Register Now!

Monetizing Social TV: New Tools and Tactics for Success
March 25
On-Demand

---
---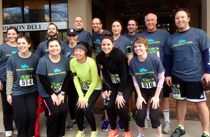 CABLE SHAPES UP! Members of CableFit #teamplatform at NCTA get ready to run a St. Patrick's Day 8K road race, spanning the U.S. Capitol grounds and National Mall on March 9, (back row, l. to r.): Julie Hance, Ethan Buch, Frank Gallagher, Kristin Buch, Steven Morris, Lisa Hamilton, Scot Donaldson, Rob Stoddard, Rick Stoddard; (front row, l. to r.): Kelly Allers, Kat Stewart, Esther Song, Carleigh Blewett, Lisa Otto. NCTA's team finished 11th in a field of 54.







October 17, 2011

ActiveVideo Wins More Damages In Patent Suit Against Verizon

A judge for the United States District Court for the Eastern District of Virginia awarded supplemental damages, bringing the jury verdict on behalf of San Jose-based ActiveVideo Networks against Verizon to nearly $140 Million. 
The supplemental damages follow a jury verdict for infringement of four ActiveVideo patents on technology relating to interactive television services, such as video on demand (VOD) used by Verizon's FiOS TV.

The court found that ActiveVideo is entitled to supplemental damages in the amount of $17,422,575, prejudgment interest in the amount of $6,687,511, and post-judgment interest for Verizon's infringement of its patents commencing on August 2, 2011, the date a $115 million judgment was entered.