CableFAX Contest - Describe the cable industry in 5 words for a chance to win a $50 Amazon gift card!
Sign up for The Skinny from CableFAX - Free Weekly Eletter
Awards --
Call for Entries & Events:

CableFAX's Most Powerful Women in Cable Breakfast
November 21 - NYC
Photos from the Event

CableFAX's Best of the Web & Digital Marketing Awards
Deadline: December 6
Enter Today!

Webinars:

Establish Cable PR and Brand Leadership with Content Marketing
December 17
Register Now!

Selling TV Everywhere: Marketing and PR Strategies to Drive TVE Awareness
On-Demand

---
---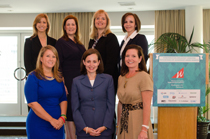 A TOUCH OF LEADERSHIP: At the PowerBrokers Breakfast of the WICT Washington, DC/Baltimore Chapter in Washington, DC on October 29, Touchstones of Leadership Award Honorees, were (top row, L-R) Discovery Comm's Catherine Frymark, Scripps Nets' Suzanne Underwald, Comcast's Samantha Callahan, TWC's Becky Bobzien-Simms, (bottom row, L-R) Travel Channel's Meghan Rodgers, the FCC's Michelle Carey & NBCU's Meredith Attwell Baker.






May 9, 2011

Comcast Encourages Do-It-Yourselfers With Triple Play Self-Install Kit

Comcast today introduced the Xfinity Triple Play Self-Install Kit, to enable customers to install and activate their Xfinity TV, voice and Internet services on their own. In addition, the company has redesigned self-install kits for one and two products.

The Xfinity Triple Play Self-Install Kit includes a digital set-top box/digital transport adapter, remote control, a high-speed Internet and digital voice modem. Each component is packaged with step-by-step instructions printed on the inside of the box lids with clearly labeled, color-coded pieces of equipment and cables neatly arranged in "a place for everything" accessory tray. Once all of the equipment is in place, customers can follow the instructions for activating their services online.


Comcast engaged frog design to help revamp its new self-installation kits. The frog team thoroughly reviewed Comcast's existing kits and developed several concepts that were shared and tested with customers for feedback, before recommending the concept adopted by Comcast.

Xfinity self-installation kits can be ordered online or by phone for direct shipment to customers' homes for a $9.95 shipping and handling charge. Kits will also soon be widely available at local Comcast service centers for pick-up.