Sign up for The Skinny from CableFAX - Free Weekly Eletter
Awards --
Call for Entries & Events:

CableMania with Cablefax & AXS TV - April 30
RSVP Today!

Call for Nominations - Top Operators
Nomination Deadline: May 2
Enter Now!

CableFAX's Digital & Tech Summit: May 21
Yale Club | NYC
Register Now!

Call for Entries - Program Awards
Entry Deadline: June 20
Enter Today!

Complete List of Events
Webinars:

Participation TV 2.0: Turning Audience Involvement Into Profit
May 7
Register Now!

Monetizing Social TV: New Tools and Tactics for Success
March 25
On-Demand

---
---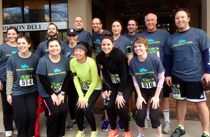 CABLE SHAPES UP! Members of CableFit #teamplatform at NCTA get ready to run a St. Patrick's Day 8K road race, spanning the U.S. Capitol grounds and National Mall on March 9, (back row, l. to r.): Julie Hance, Ethan Buch, Frank Gallagher, Kristin Buch, Steven Morris, Lisa Hamilton, Scot Donaldson, Rob Stoddard, Rick Stoddard; (front row, l. to r.): Kelly Allers, Kat Stewart, Esther Song, Carleigh Blewett, Lisa Otto. NCTA's team finished 11th in a field of 54.







December 8, 2009

DMAs Will Be Obsolete by 2014, Says TDG

According to new research from The Diffusion Group (TDG), the global market for digital media adapters (DMAs) will be virtually nonexistent by 2014, the consequence of manufacturers shifting to embedded solutions and growing demand among consumers for video platforms that feature native Internet connectivity. In other words, the DMA will be rendered obsolete before it gains a solid footing.

Colin Dixon, managing partner at TDG and author of the new report "Broadband-Enabled TV: Evolution of OTT Hardware Platforms," said in a statement that the DMA, first introduced in the early part of the decade, has been a non-starter.

"Now that demand for TV-based Internet connectivity has finally arrived, there are a growing number of multi-purpose platforms such as game consoles and Blu-ray players capable of enabling this experience, thus subverting the need for a separate dedicated bridge device like a DMA," said Dixon.

While consumers may be driven to buy a new game console or Blu-ray player to play disc-based games or watch disc-based movies, they soon discover that by simply connecting these devices to the Internet a new world of entertainment is opened. In addition, standards such as UPnP and DLNA have also brought digital media portability into a number of devices that have already earned their place beneath the TV including game consoles and DVRs.