Sign up for The Skinny from CableFAX - Free Weekly Eletter
Awards --
Call for Entries & Events:

CableMania with Cablefax & AXS TV - April 30
RSVP Today!

CableFAX Tech Breakfast & Roundtable - May 1
Complimentary Registration!

Call for Nominations - Top Operators
Nomination Deadline: May 2
Enter Now!

CableFAX's Digital & Tech Summit: May 21
Yale Club | NYC
Register Now!

Complete List of Events
Webinars:

Participation TV 2.0: Turning Audience Involvement Into Profit
May 7
Register Now!

Monetizing Social TV: New Tools and Tactics for Success
March 25
On-Demand

---
---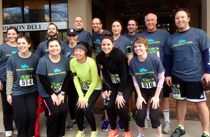 CABLE SHAPES UP! Members of CableFit #teamplatform at NCTA get ready to run a St. Patrick's Day 8K road race, spanning the U.S. Capitol grounds and National Mall on March 9, (back row, l. to r.): Julie Hance, Ethan Buch, Frank Gallagher, Kristin Buch, Steven Morris, Lisa Hamilton, Scot Donaldson, Rob Stoddard, Rick Stoddard; (front row, l. to r.): Kelly Allers, Kat Stewart, Esther Song, Carleigh Blewett, Lisa Otto. NCTA's team finished 11th in a field of 54.







December 7, 2012

Business Incubators 12/07/12

Raleigh, N.C-based tech company and CLEC Bandwidth and Yealink, a provider of VoIP phone and IP communication solutions, are contributing complimentary Phonebooth cloud-based business phone service and hardware to the dozens of startups making their homes in the American Underground, a Durham-based startup hub. The 13-year-old Bandwidth began as a Triangle startup; that history, it says, is fueling the company's interest in the Underground and other entrepreneurial hot spots, including HUB Raleigh. "American Underground is a center for innovation and entrepreneurialism in this market. We love the energy of the space and the incredible environment they've created for startups," comments CMO Noreen Allen. "At Bandwidth, we see the potential for startups to do revolutionary things—both in this market and around the globe. As they grow and succeed, we're proud to stand beside them, fueling that potential with innovative products and services." In conjunction with the Bandwidth/Yealink announcement, the American Underground recently unveiled a plan to open a new hub, dubbed Underground@Main Street; it includes 22,000 square feet of customized downtown space that will be available to early-stage startups in Spring 2013.