CableFAX Contest - Describe the cable industry in 5 words for a chance to win a $50 Amazon gift card!
Sign up for The Skinny from CableFAX - Free Weekly Eletter
Awards --
Call for Entries & Events:

CableFAX's Most Powerful Women in Cable Breakfast
November 21 - NYC
Photos from the Event

CableFAX's Best of the Web & Digital Marketing Awards
Deadline: December 6
Enter Today!

Webinars:

Establish Cable PR and Brand Leadership with Content Marketing
December 17
Register Now!

Selling TV Everywhere: Marketing and PR Strategies to Drive TVE Awareness
On-Demand

---
---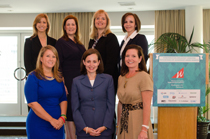 A TOUCH OF LEADERSHIP: At the PowerBrokers Breakfast of the WICT Washington, DC/Baltimore Chapter in Washington, DC on October 29, Touchstones of Leadership Award Honorees, were (top row, L-R) Discovery Comm's Catherine Frymark, Scripps Nets' Suzanne Underwald, Comcast's Samantha Callahan, TWC's Becky Bobzien-Simms, (bottom row, L-R) Travel Channel's Meghan Rodgers, the FCC's Michelle Carey & NBCU's Meredith Attwell Baker.






December 7, 2012

Business Incubators 12/07/12

Raleigh, N.C-based tech company and CLEC Bandwidth and Yealink, a provider of VoIP phone and IP communication solutions, are contributing complimentary Phonebooth cloud-based business phone service and hardware to the dozens of startups making their homes in the American Underground, a Durham-based startup hub. The 13-year-old Bandwidth began as a Triangle startup; that history, it says, is fueling the company's interest in the Underground and other entrepreneurial hot spots, including HUB Raleigh. "American Underground is a center for innovation and entrepreneurialism in this market. We love the energy of the space and the incredible environment they've created for startups," comments CMO Noreen Allen. "At Bandwidth, we see the potential for startups to do revolutionary things—both in this market and around the globe. As they grow and succeed, we're proud to stand beside them, fueling that potential with innovative products and services." In conjunction with the Bandwidth/Yealink announcement, the American Underground recently unveiled a plan to open a new hub, dubbed Underground@Main Street; it includes 22,000 square feet of customized downtown space that will be available to early-stage startups in Spring 2013.